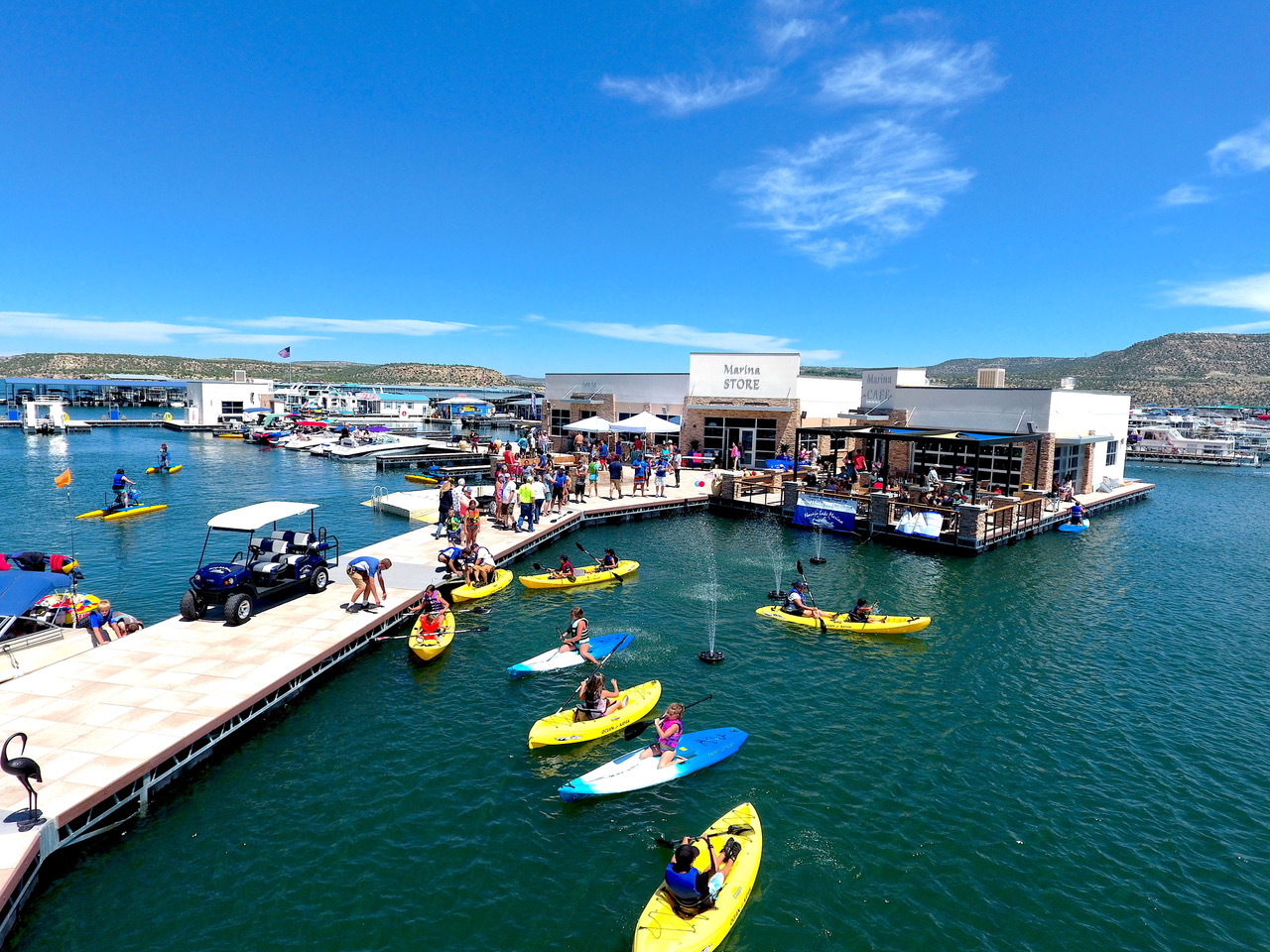 Marinas With Innovative Profit Centers and Amenities Reap Big Revenues
Published on June 25, 2018
Editor's Note: Marina Dock Age magazine talked with a number of marinas and boatyards about what we're calling: Innovative Profit Ideas – anything that increases revenues, helps retain customers, brings in new boaters or tourists, cuts expenses, or makes the business more efficient.
Kayak/SUP Storage
At Blue Water Yacht Harbor in Sausalito, California, space is limited. The marina has about 80 slips, and its location in San Francisco Bay won't allow anymore. The marina has a mix of power and sailboaters, and more recently it started catering to non-powered vessels – kayaks, standup paddleboards (SUPs), kiteboards and ocean canoes for one person (OC1s) or two people (OC2s).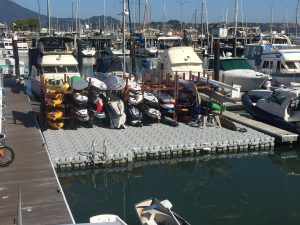 Parking is limited at the facility. Blue Water Yacht Harbor wanted to build a storage building to rent space for small vessel storage, but the location was one parking spot short. "The city wouldn't budge," said Christopher Lacey, owner of Blue Water Yacht Harbor.
Instead, the marina took two open 30-foot slips, and built a floating platform with plastic floating blocks from Dock Blocks of North America, creating 47 storage spots for SUPs and more.
"SUP is just on fire here. Kayaks seems to be fading away," Lacey said. A nationally ranked kiteboarder also lives at the facility, and the marina has an active kiteboarding community.
The racks are self-service for non-powered vessel owners. The marina issues key fobs to access security gates and the parking lot. The spots rent for $75/month, $400 for six months, and $775 annually. Two SUPs are allowed per storage spot. For kayak or OC1 storage, the spots go for $995 annually, $525 for six months, and $95 per month.
Unlike with boat slips, the marina does not require 30 days' notice to leave a lease and storage spot. "We just prorate it and give them the money back," Lacey said. For those that are unsure about long-term storage, it gives them peace of mind that they can change their mind. And the marina has had no problem filling empty spots.
The storage spots were a huge success. "It grew our revenue by more than 10 percent," Lacey said. He said the return on his investment for the docks and storage racks was about one year.
Boater Advisory Board
Sandy Hook Bay Marina in Highlands, New Jersey, has 130 slips. The marina targets boats between 30 and 50 feet with a primary emphasis on boats between 35 and 40 feet. The marina has annual, seasonal and transient boaters. Fifteen slips are reserved for transient boaters and patrons who dock and dine at the restaurant on-site.
The marina markets memberships, not slip rentals. "People feel like it's a little bit more exclusive. It's a place where family and friends gather. It's their club. It's their marina," said Gloria Van Bierts, marina manager. She said it helps with customer retention.
The marina also takes extra steps to bring boaters together. Events help boaters form friendships that bring them to the marina more often. Sandy Hook Bay Marina even holds events in the winter to get boaters together.
In late 2017, the marina started a Member Advisory Board, made up of volunteer boaters at the marina. Many are ambassadors of the marina who have been there for many years. The group has met a few times, but also exchanges a lot of ideas via email. The marina doesn't actively seek out members, but the group, which has four active participants, is open to anyone that's interested.
This small group has helped the marina a lot with its procedures and processes, such as handling pool memberships, guests and additional family members on-site. The group is quick to come up with new tasks for the dock attendants to help boaters.
The group has also helped with amenity enhancement by bringing good ideas to the table. The marina has a large fishing community, and the group proposed a new fish cleaning station. They helped with how to structure it, where to put it, how best to discard of waste.
Many members at the marina have been there for many years, before renovations were made at the marina after Hurricane Sandy did major damage to the facility in 2012. Prior to the storm, the marina was largely leisure boaters and fisherman. This demographic still exists at the marina, but it has also expanded to boaters and sailors from throughout the tri-state area (New Jersey, Pennsylvania and New York). The member advisory board assists with continuous improvement efforts and member satisfaction, and the marina maintains a high occupancy rate.
RV Park and Resort
Elm Hill Marina in Nashville, Tennessee, caters to boats between 24 to 34 feet, as well as about 100 houseboats, mainly family oriented boaters. Many of its boaters enjoy other outdoor activities, such as motorcycling and camping. Three years ago, the RV Resort Park opened at Elm Hill Marina, designed primarily for class A campers. The campground is located on a peninsula, across the cove from the marina.
"Because of its unique shape, all of the sites command either a lake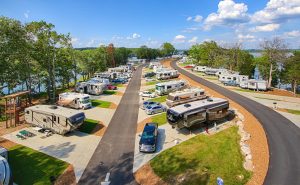 view or lake frontage. Every aspect of the RV park has waterfront access and is specifically set up to be a private area that campers can enjoy," said Dave Signs, chief operations officer Elm Hill Marina and Blue Turtle Bay Marina.
There are 130 sites, with 30- and 50-amp hookups located at each site. Water, sewer, cable and internet hookups are also available at every site. The RV park is full-service, with amenities including a shower house, bathrooms, laundry room, firewood and propane refills, a private beach, completely outfitted camp store, a pool, a playground and splash pad area for kids. Golf carts, kayaks and paddleboards are available for rent. The marina also has an activity building complete with an area to host events, a fireplace, outdoor TVs and shuffleboard. Live music is offered on the weekends as well. The park can accommodate parking from March 1 to October 31, and the marina offers a private courtesy dock for weekend campers to dock boats.
"Boating is typically an activity folks want to enjoy for several hours before switching gears and doing something else. The RV park offering allows them to be able to enjoy the water and then retreat to the park to enjoy other activities and relax, while still being right at the waterfront. It ultimately marries our guests' favorite activities––boating and camping," Signs said. The marina and RV park are also located within the Nashville city limits and are about ten minutes from downtown, yet the campground is secluded with a natural, wilderness setting. A lot of campers also rent boats at the marina, while they're camping.
In its third season, the RV park is running at 99 percent occupancy. "Adding the park to Elm Hill has increased the marina's gross revenue by about 25 percent and has increased the bottom line by about 30 percent. We have plans to substantially expand the RV park, which will include year-round availability for weekenders," Signs said.
Traveling Service
Blue Turtle Bay Marina, a sister marina of Elm Hill Marina, Drakes Creek Marina and Clarksville Marina, all work closely together to refer customers for both sales and service work. The sales and service department caters to all types of boats, including fiberglass, and the service team works year-round in the Nashville area.
Its secure lot houses store new boats, and the marina has a small service shop on-site to hold trailered boats or large repair projects. Most of the work done by the service team is done off-site. Technicians are primarily mobile, traveling to boat owners to make any repairs or to do any maintenance needed.
Signs said this is efficient for the service department, and it is easiest for the customers. "This premiere offering is available to both customers and non-customers alike," he said.
The sales and service departments are part and parcel. Big Turtle Bay uses space at each of its four sister marinas to showcase new boats and products and hold regular sales events at each marina.
The marina has dedicated staff members who specifically handle the parts and service work orders. This includes managing, replenishing and ordering news parts in real-time and as needed, and facilitating with the technicians and customers. The parts are held in a secure, on-site warehouse and are billed out to the various work orders, as they're sold to customers and their boats are being repaired. Each July, the marina works closely with a dealer to select which top boats it will have on-hand for customers for the coming year.
"It's really a trifecta with the sales, service and marinas and their amenities. In our experience, sales and services departments that are coupled with a marina do tremendously better than stand-alone operations. Our goal is for our marina customers to translate over into our service and sales department," Signs said. "Over half of our collective marina customers are also our service customers and growing. For example, in the last couple of years alone our work has doubled, maybe even tripled at Elm Hill Marina in particular."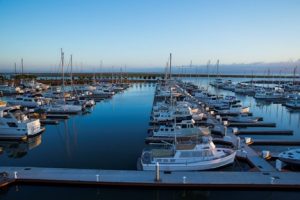 Airbnb for Boats
Westpoint Harbor in San Francisco Bay has 416 wet slips and 60 dry storage spaces. Mark Sanders, a life-long boater and electrical engineer, started the large, 50-acre harbor project in 1988. Space is at a premium in San Francisco and real estate prices make some turn to the water for accommodations. A typical hotel room or one-room studio in the area rents for $300 to $400 a night. With a location close to Google headquarters and other Silicon Valley elites, some business travelers are opting to stay on the water.
Boaters have been using Airbnb for years, but Sanders said generally, this violates the insurance for the marina, and in many cases, city rules. Airbnb operates an online marketplace for people to lease for lodging, including holiday cottages, apartments or hostel rooms.
"But what if you did it right for boats?" Sanders wondered, but insurance would be the challenge. Insurance is more difficult for a charter boat, if it doesn't leave the harbor. "If it sinks in the marina, the marina holds the liability," Sanders said. So, Westpoint Harbor got a special insurance policy to cover the Airbnb service, for vessels that don't leave the harbor. The marina also worked with two insurance companies to organize insurance for the boaters to authorize Airbnb services, and met with the city to approve tax and city standards for the program.
Sanders was the first to put his boat into the Yacht Suites program. "My boat has never been cleaner or better kept," he said.
The marina employs a life-long liveaboard at the marina to facilitate the program and clean and organize the boats.
"It's been a wonderful success," Sanders said. He has convinced customers that wanted to sell their boat to instead, put it into this program. He has also had customers buy boats to put into the program. The program operates at about 10 boats, about one boat per dock.
"I love it because if I ever decide to take my boat out, it's always ready to go," Sanders said. "The tanks are full, everything is fresh and clean."
For business travelers and most families these days, high speed, uninterrupted internet is a must, on the water or not. At Westpoint Harbor, in the heart of Silicon Valley, internet speeds slow down significantly at night. The marina had high-speed DSL phone lines to every slip. "But it was still too slow," Sanders said. It now uses a proprietary Gigabit-capable system, which was installed in 2014. It eliminates the normal issues with Wi-Fi dead spots and metal boats. It has no band-width limit and very long-range capability. By the end of 2017, revenue from the internet service had increased by 63 percent year-over-year.
Kid's Birthday Parties
At Navajo Lake Marina in Navajo Dam, New Mexico, many boaters drive very far to get to the water. In the scenic high desert within Navajo Lake State Park, boaters come to enjoy the water and nature, but the marina also wanted to give other tourists a reason to visit and more activities to keep bringing boaters back.
After a $1.5 million renovation and expansion, the marina has a fishing hole and splash pad, non-motorized rentals, floating lodging and bumper boats.
The marina is renovating what used to be a restaurant in an old building to hold kid's birthday parties. The birthday package offers a three-hour party with access to either kayak, paddleboards or bumper boats and the party room with pizza and soft drinks. Guests bring their own birthday cakes.