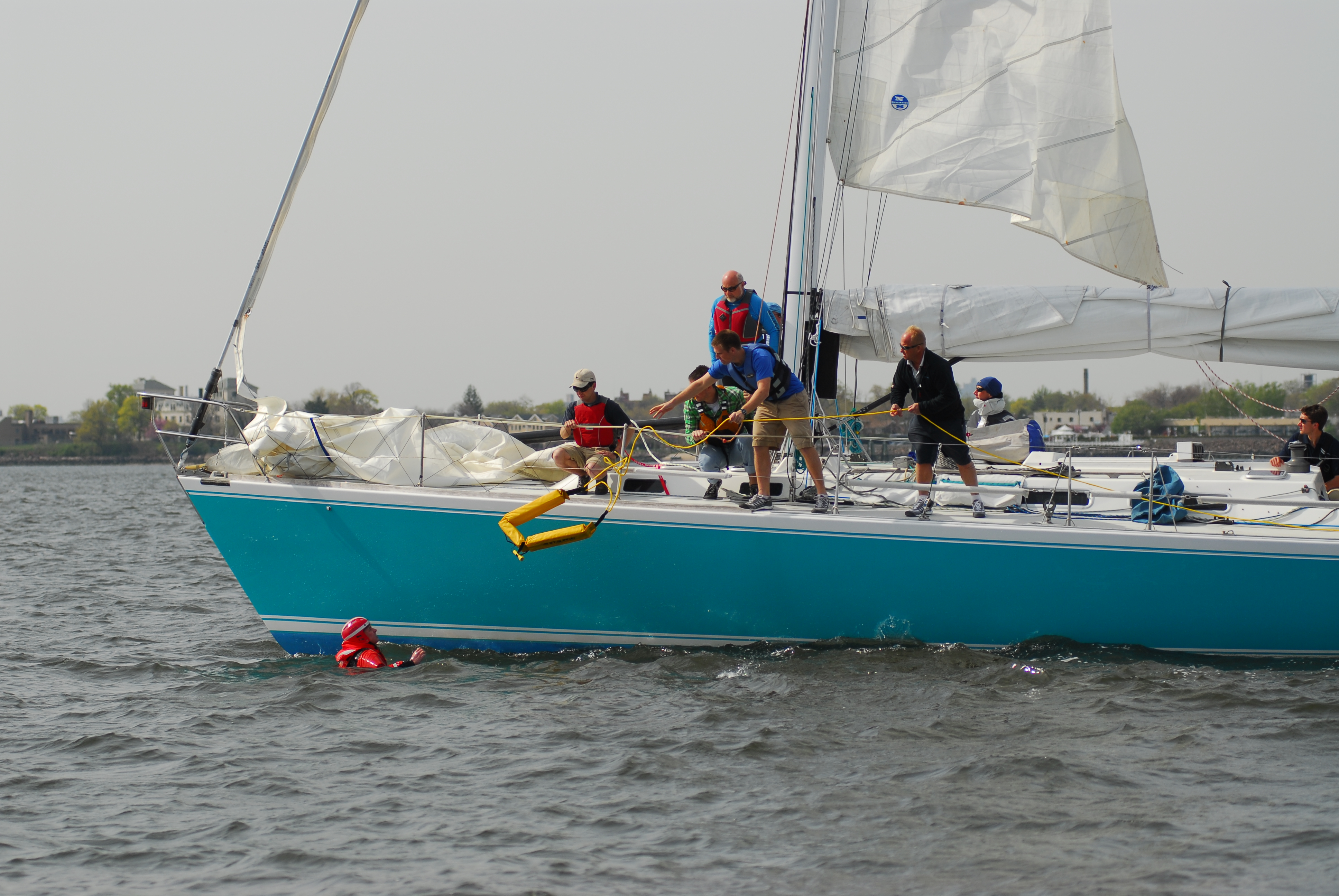 Pikes Bay Marina Hosts Safety at Sea Seminar
Published on April 5, 2018
Safety at sea should be a priority for all that venture into the blue, and getting educated in all things safety can benefit even the saltiest mariner. Marinas have a unique opportunity to aid in the safety education of both boaters from their marina and others who enjoy time on the water from a local boating community. Their knowledgeable staff and location and stature in their local boating community give events the promotion they need and the opportunity to educate local boaters of all kinds. Apart from the obvious benefit of well-educated and safe boaters, hosting a seminar can also result in goodwill and new customers for the hosting marina. These benefits have not escaped the attention of Pikes Bay Marina, as their sponsorship of a world class safety at sea seminar demonstrates.
Steve Linton, general manager of Pikes Bay Marina, said the marina's location on Lake Superior has excellent access to the Apostle Islands, and his marina's co-sponsorship of a U.S. Sailing sanctioned Safety at Sea Seminar fell right in with his background and passion for marine safety. With a background of law enforcement marine rescue and a history training fire departments in water rescue, Linton has a soft spot for water rescue training. He saw the seminar offered by U.S. Sailing as a great opportunity to educate boaters both from his marina, as well as others in the local boating community to learn effective and practical safety while on the water.
Linton first worked with these seminars back in the 90s. The Safety at Sea Seminar was first designed primarily as an education seminar for sailors, but Linton said that today's seminar is equally valuable for both sailors and power boaters. The certification that is obtained after successful attendance can be used to meet requirements for many sailing club's safety training requirements for competing in their races. However, the material that is covered in the course is also equally valuable to anyone who ventures offshore.
Offshore Safety
The two-day seminar that will be held at Pikes Bay Marina and other nearby locations June 9 to 10 is quite comprehensive in its coverage. Day one is the Offshore Safety at Sea segment. According to U.S. Sailing, the eight-hour session "provides both novice and experienced mariner with the information and skills required to sail the Apostle Islands and offshore, handle heavy weather, conduct rescue procedures, and much more."
Completion of day one of the course also meets WYC-AIS racing requirements. The information covered includes personal safety gear, man overboard prevention, MOB recovery, emergency communications, search and rescue, handling heavy weather, use of storm sails, health of the crew, dealing with hypothermia, emergency repairs and jury rigging, fire training, helping other boaters, deployment and use of life rafts and emergency signaling. The course also provides a textbook, Safety at Sea, which is a guide to safety under sail and personal survival. The seminar includes lunch and refreshments plenty of time for talking about personal anecdotes and emergency experiences throughout the seminar. Linton is also bringing in a local doctor who will talk about hypothermia and injuries that may occur on-board. Moderated by Ralph Naranjo, an experienced worldwide mariner, author and safety seminar moderator, he also is an adjunct lecturer at the Annapolis School of Seamanship and his latest book is The Art of Seamanship.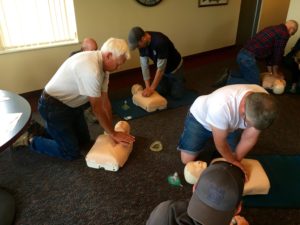 Hands On Education
Registrants can sign up for only day one activities, but day two provides a lot of hands-on practical education. Spanning six hours, day two includes hands-on sessions giving practical education on life jackets and life rafts. The training all takes place in the water at a nearby rec center with a heated pool that can handle the number of attendees with foul weather gear and life jackets and climbing on and out of life rafts. The rec center group also runs the community sailing program.
On day one boaters will see demonstrations, but day two allows for personal involvement in such things as the swimming activities and other things like lighting flares. The session is also set up with group activities to test problem-solving skills. The idea is to give the attendees a base of knowledge and a certain comfort level in emergency situations. Completion of both day one and day two meets the requirements for the International Offshore Safety at Sea With Hands-On Training certification.
Pikes Bay Marina is co-sponsoring the event along with Superior Charters, a charter and Jeanneau boat broker, located next door to the marina. The broker keeps many of their boats at the marina slips and will provide the boats and staff for the demonstrations. The man overboard demonstration will be held with a new boat from the brokerage tethered between two docks. They also have a large database of people and customers that will be used to contact and solicit the event. There are other sponsors involved, too, that include local marinas, marine associations, sail lofts, sailing schools, the local Coast Guard, local community sailing groups and yacht clubs, all of whom will also market the event.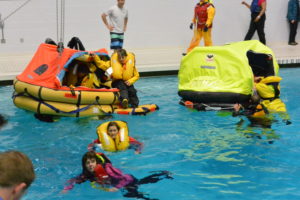 Boating Comfortable
Linton finds that the need for such seminars stems from boaters feeling uncomfortable in certain situations on the water or are unaware of what to do in an emergency. He said that making customers and boaters feel more comfortable will probably result in them staying in boating longer, in addition to the comfort of feeling safe on the water.
Linton said the seminar is also good for new boaters that were afraid to go out because of a bad experience. He said, "What we are trying to avoid is an attitude of I don't want to go boating because I feel uncomfortable." Linton said it is important to think "what can we do to make their experience here as enjoyable as possible?"
The Safety at Sea seminar is not all the marina is noted for within its local community. The marina also periodically offers in-house safety education for staff, as well as basic boat maintenance classes and CPR training. One of the marina's boaters, Chris Band, is a Coast Guard Auxiliary member and developed a very well received and distributed kayak safety program to help reduce the number of kayak incidents in the Apostles, bringing that experience to the marina.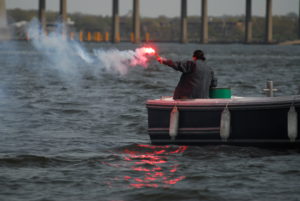 Good, Professional Value
Linton explained that they do not do these seminars to "get a gold star for the day" but rather that it is an opportunity to showcase the property, while providing a valuable public service. Other benefits could include increasing sales by stocking up on safety equipment in the ships store. Recognition within the local community as a caring member and provider of valuable information also aids in the marina's reputation and can eventually bring in new customers.
Putting on such a seminar does have its challenges, however. Linton said that if a marina is considering such a venture it is important to make sure that it is a quality event that provides good value to the attendees and is professional and well planned in its execution. Proper planning is key and a great deal of staff time needs to be dedicated to getting it all to run smoothly, taking account for all contingencies. Even things such as AV quality are important and hiring the right vendors to provide a quality experience is crucial.
Apart from educating boaters in safety and possibly saving lives, putting on an event such as that of Pikes Bay Marina, if done right, has other positive results that benefit the marina business and the local community.