Pikes Bay Marina Takes Extra Steps for Boaters and the Business
Published on February 14, 2019
Along Lake Superior's crystal clear waters, near the 21 Apostle Islands, the shoreline was calling for a marina. In 1994, local Bayfield, Wisconsin, resident Lu Rienstra contacted developer Gerard Koehn of Goldridge Group, which had long been established in real estate, mainly residential and hotel properties. The original vision included townhomes, but once Koehn saw the stunning shoreline, he knew it needed a marina. His partners Steve Stamm and Guy Rossato agreed, and the Goldridge Group of Bayfield was formed.
It would take nearly 10 years for the owners to bring the project to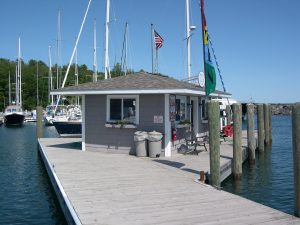 fruition, through permitting, designing and the public meeting process. Before the marina could open in 2001 at Pikes Bay, the first project was building a massive black granite breakwater. Durocher Dredge & Dock used rock from a local quarry, and a crane operator placed each stone one by one to create the proper placement and tight fit to make the massive armor stone effective. Now, Pikes Bay Marina has one of the most weatherproof harbors on Lake Superior.
Sign up for the Marina Dock Age newsletter.
Our newsletter delivers the latest news straight to your inbox including breaking news, our exclusive content covering the marina and boatyard industry, new products, and much more.
In 2009, the marina hired Steve Linton as general manager to improve profitability. With more than 40 years experience in the marine industry, running his own dive rescue and training company and a boat dealership, as well as other marinas, he was equipped to take the facility to the next level in infrastructure, customer service, safety and more. The marina has top notch facilities, outstanding operational standards and metrics, but its boaters come back as much for the hospitality as anything else.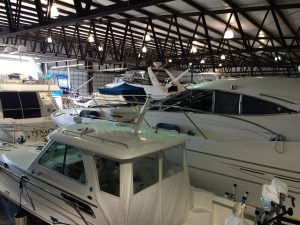 Linton has a strong team, a mixture of older, semi-retired, middle-aged and young workers. Despite the large generational gap, they all work well together, bonded namely by their common work ethic. The marina's dockmaster, Larry Nelson, is retired from Wisconsin DNR. Linton said he embodies the right attitude and it rubs off on the staff, and if customers ever need to know about fishing, that was his specialty at DNR. The team includes a service manager, office manager, parts coordinator and numerous support staff. The marina has a total of eight full-time and six seasonal employees.
While the Bayfield area may draw upwards of 60,000 tourists on busy weekends, the local population is very small. "The locals here are folks that are hard working and involved in tourism," Linton said. "It's made a good balance so you're not worrying as much about a young staff. They have a lot of experienced people around them."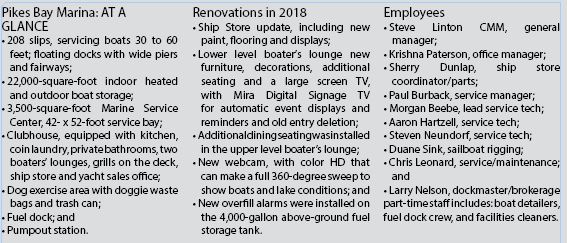 At the Marina of the Year presentation in December 2018, Linton joined other winners in celebrating their achievements, and each spent time detailing some of what makes them worthy of the award. Many were touched by the tribute Linton made to his staff, who had joined the ceremony via a FaceTime Live video stream. They enjoyed their own awards breakfast in Wisconsin, and Linton's tearful and heartfelt dedication to his loyal staff was both touching and telling – an obvious display of the special environment and family at Pikes Bay Marina. "It really is a special place," Linton said, "a special property."
Recruitment and Training
That type of loyal and productive staff doesn't come without some effort and investment. The marina not only hires people with the right work ethic to provide friendly service all the time, it invests a large amount in employee training – more than $18,000 in 2017 and close to $10,000 already in 2018.
Linton said most of that money goes toward training repair technicians. Like with many facilities, it's a challenge for Pikes Bay Marina to find qualified technicians. A local school with a marine tech program provides some quality applicants, but they often need more training to work at a marina and boatyard. The program trains workers mainly to work at dealerships where they typically work on one type of outboard or boat manufacturer. Pikes Bay Marina needs workers who can work on all makes and models. With newer boats and more advanced electronics, boatyards are challenged further to stay on top of trends and standards, Linton said.
In thinking about his customers and boating, he said, "I always worry about if you're not enjoying yourself and you're not having fun, they will wonder, 'Is this worth it? Should I do something else?' "
He knows having an efficient service department is key to keeping boaters on the water. However, the marina wasn't originally built with service as a major profit center, but it grew out of customer demand. Summer service turned into year-round service with a full-time service staff. During the summer, the storage building provided adequate space for service work, but as it grew it became harder to remain efficient. "More and more service work was being done each year, and it never really had a home," Linton said. In November 2017, the service department broke ground on a new workspace.
The 3,500-sqaure-foot Marine Service Center includes a 42- x52-foot service bay, tool room, parts store, offices for the service writer and service manager, and a tech counter for parts inventory and work orders. The building opened in May 2018 and was quick to increase efficiency and profitability in the service department.
Upgrades/Renovation
Although the marina is fairly new, it has continually invested in upgraded infrastructure, including equipment for moving larger and wider boats, a new pumpout system and portable pumpout cart and electric diesel fuel caddy. For a list of additional renovations done in 2018, see the chart on page 6.
When the marina built the Marine Service Center, it installed several power pedestals on the exterior of the building and in an adjacent storage lot to provide power access to boaters working on their boats during the off-season. The set up caught the eye of a few boaters who also own electric vehicles. During season, some customers use the pedestals as an electric vehicle (EV) charging station.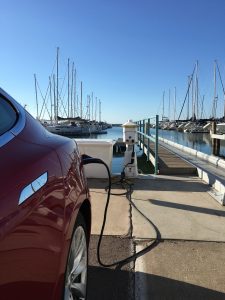 Linton said the marina has not advertised the EV charging service. It is only for customers and will probably remain that way. Not all vehicles have the same plug, Linton said. Some customers have their own adapters, but this year the marina is also looking to provide adapters, for an additional small fee. Customers pay a $10 charging fee for use on the charging station during a 24-hour period.
Like many facilities, Pikes Bay Marina struggled with adequate Wi-Fi, as boaters' usage increased. In 2017, the marina's boaters logged 175,000 hours on the Wi-Fi system. Because of the remote location, quality service at an affordable cost was a challenge, Linton said. After some digging, the marina identified a local company, Norvado, who designed a new system for the marina using fiber optics. The new system includes Wi-Fi, Cable and the phone system. The marina invested $10,000 for the upfront costs, and Norvado covered any additional costs. The marina has a five-year contract with the provider for service. The bundled services alone saved the marina hundreds of dollars in the monthly payments with a better service. Under its old provider, the marina offered a bandwidth of 100 Mbps for download and 20 Mbps for upload. Linton said, in reality, the speed was even much slower. With the fiber optic service, it can easily provide a bandwidth of 250 Mbps, and that speed can be doubled with a simple phone call at busy times.
After a lot of infrastructure renovations, it became clear it was also time for an image overhaul. In 2018, Pikes Bay Marina also rebranded its image with a new logo and signage. The signage out on the road was a big focus, Linton said.
"Many local people still thought this was a private marina and that it wasn't open to the public," he said. The new, more visible entrance sign acts as a welcoming billboard. The updated logo was a hit with both powerboaters and sailboaters and is adorned on entrance and wayfayer signs, as well as the company truck. "There's no doubt whose truck that is," Linton said. He also said his local competitors have called him to find out who did Pikes Bay's new signage.
Linton credits the strong ownership for the marina's success – for investing in the business to help it grow and for its acute analysis of the marina's performance. Financials are handled by the corporate office and meticulously managed. Linton has a monthly meeting, and each profit center is tracked individually; employee timesheets are itemized for each profit center. This close watch on financials helped save the service business tons on shop supply expenses, when it was discovered that almost $3,000 in shop expenses had not been recouped. Rather than charging a flat rate fee, shop supplies were billed out based on different categories. It took a little education with the techs and resulted in a net profit on shop supplies of more than $7,000 by 2017.
Pikes Bay Marina is always looking to the future – in numbers and in infrastructure. Next on the list might be a solar installation. The clubhouse, which is not energy efficient with 4A/C units, 10 showers, 17 bathrooms, kitchen, multiple TVs, laundry rooms, coolers and lots of windows, would benefit from the solar power produced at the service center. The new Marine Service Center is very energy efficient with in-floor heat, on-demand hot water and LED lighting, and is perfectly positioned for a solar application. Linton is working with Next Energy Solutions, which has done a site assessment and provided a proposal for equipment and cost. Management and corporate are now considering the proposal and future of solar at Pikes Bay Marina.
Taking the Extra Steps
One of the biggest challenges at Pikes Bay Marina comes from its beautiful location on the hill, which puts the marina down below and the clubhouse above with a gorgeous, expansive view of the lake. It makes for difficult, steep terrain moving boats, especially in the winter; it's too steep for a forklift and requires larger equipment. The entrance is another 100 yards and another 50 feet change in elevation, which must be plowed and sanded in the winter for staff and deliveries. Boaters may sometimes decry the long walk from the water to the clubhouse, and it requires careful planning to receive a boat off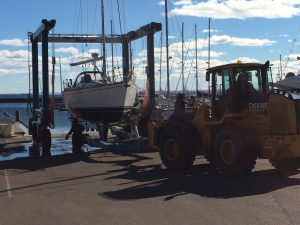 a boat transport truck in the winter, but both staff and boaters agree the unique topography of the land is well worth the challenge and the extra steps.