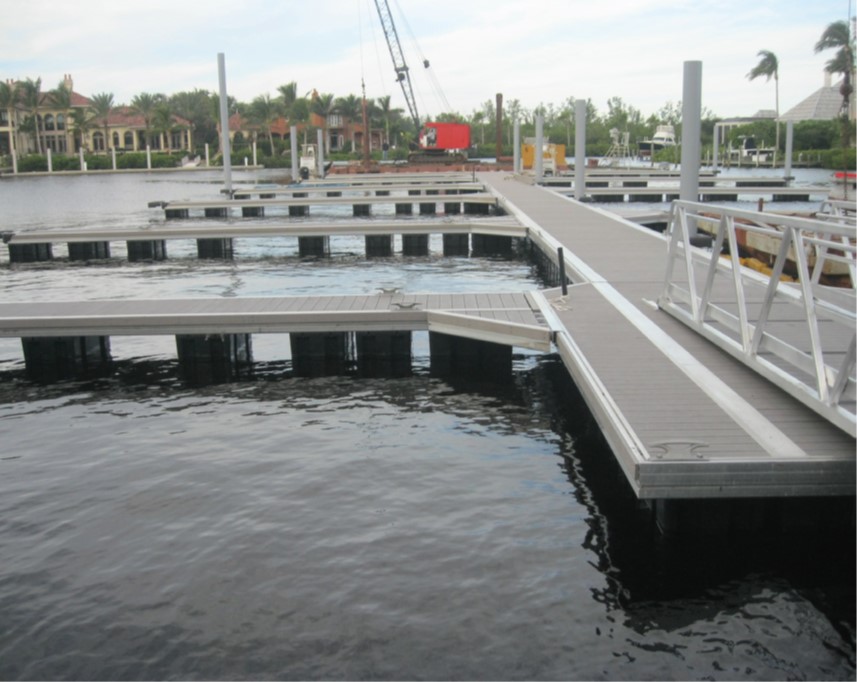 Planning and Preparation Helps Marinas Through Florida Hurricanes in 2017
Published on January 19, 2018
After more than a decade without a major hurricane making landfall in the U.S., 2017 is going on record as the most expensive Atlantic hurricane season. The 17 named storms caused an estimated $200 billion in damage, which surpasses the previous record of $159 billion in the 2005 season that included Hurricane Katrina.
Tropical storms and hurricanes are naturally a great concern for boat owners and marina operators. Having a hurricane preparedness plan, and following the plan, is essential in minimizing the damage to a marina and docked boats.
"Think ahead. You can't do it the week of; you have to have a plan in place and stick with it," said Todd Carroll, president of Carroll Properties in Fort Myers, Florida. "You need to have a plan in place well before that storm is named."
Gulf Star Marina
Carroll's family owns Gulf Star Marina in Fort Myers and also provides dockage at their Best Western hotel on the Fort Myers waterfront. They were fortunate to escape major damage when Hurricane Irma came ashore on September 10. "We feel like we definitely dodged a bullet," he said. "If it had been 20 miles to the west, it would have been a completely different story. They were predicting 12-foot surges. No one has piling that high. It would have been a mess."
Sign up for the Marina Dock Age newsletter.
Our newsletter delivers the latest news straight to your inbox including breaking news, our exclusive content covering the marina and boatyard industry, new products, and much more.
Carroll said they start storm preparations at least a week out and continue to monitor weather forecasts. "We have a plan for every day as it gets closer." The plan outlines the tasks that must be done each day up to the final day before everyone evacuates.
To prepare for Irma, the Gulf Star Marina staff removed most of the small boat traffic from the water, but there were a couple of large vessels they had to leave in and cross-tied them in the center of the marina. Carroll said just prior to the storm they had finished some repairs to help stabilize the dock. During the storm, they lost some boards on the dry dock storage building and a few planks on the docks.
The marina re-opened the day after the storm, even though they were without power for three or four days. "Once the power came back on we were operating as a full-service marina again," Carroll said.
They got lucky this time, but during Hurricane Charley in 2004, they lost most of the wet slips at another marina they operated near Sanibel on Florida's west coast.
"Normally the docks are OK, it's what's tied to them or blows into them," Carroll said. "If you have to leave anything on the docks, that's when you get damage."
He recommends having a clause in dock rental agreements that requires owners to move their boats, or make arrangements to have them moved, if a storm is coming. "That type of plan really saves your wet slips," he said.
Club Nautico de San Juan
Club Nautico de San Juan in Puerto Rico also requests that boat owners remove their boats from the marina in the event of a severe storm. "This is part of the dockage agreement," Commodore Jose Vizcarrondo said. "However, if the owner leaves the boat, any damage suffered to the facilities is the responsibility of the boat owner."
Vizcarrondo said the marina has a hurricane plan and notifies all vessel owners before hurricane season starts and before any weather system becomes a threat.
Just as Carroll recommended, Club Nautico's staff prepares for storms on the docks by removing objects, such as waste receptacles, that could become airborne and tying down objects that can't be removed.
Vizcarrondo said the marina received minor damage when Hurricane Irma skirted the island on September 6. Following that storm, the marina staff assisted with recovery efforts for other hard-hit areas. But, on September 20, Hurricane Maria slammed into Puerto Rico with 155 mph winds. Maria was the first Category 4 storm to hit the island since 1932. The storm severely damaged the island's infrastructure and recovery efforts are continuing there. The marina lost part of its covered slips when the steel covering collapsed, causing two boats to sink. Other boats received minor damage to their sides as they hit the mooring piles.
On September 21, the marina posted on its Facebook page, "We are rejoiced! Our marina weathered the storm perfectly. We had a situation with the Northeast corner of the covered slips area, but the rest of the marina is doing great including 100-foot boats and with no damage to our infrastructure. We are certainly giving thanks!"
In January 2017, Club Nautico worked with Structurmarine to install a floating aluminum dock to accommodate watercraft more than 100 feet long. The construction also included new piling and a gangway from an existing fixed pier to the floating dock. During Hurricanes Irma and Maria, the gangway was rolled in and lashed to the fixed pier.
On September 27, Vizcarrondo sent an email to Gael Simon, Structurmarine's U.S. sales manager, that the floating dock was intact and had survived perfectly.
Simon said not only must a structure be designed to withstand storms, but storm preparations must be taken according to the manufacturer's specifications. "They did a great preparation job, and that resulted in minimal damage," he said.


Waves from a typhoon break on the reef protecting Kadena Marina near the U.S. Air Force base in Okinawa, Japan, while the docks stand intact after the storm.
Marina Design
Marina owners and operators must take precautions to protect their properties, and good marina design can help minimize damage.
"The flexibility of the structure is important so it can ride and respond to much stronger forces," Simon said.
Wind speed and storm surge are two factors to consider when designing or making marina improvements in hurricane-prone areas. Simon said storm data is evolving over time and that locations that were on the edge of a hurricane area 10 years ago are now more likely to get hit.
"It has changed the way we look at marina structures," he said. Wood was once the first choice in building materials for docks, but the increased storm threat has created a demand for more long-lasting materials such as aluminum.
"Superstorm Sandy brought that reality to a lot of the East Coast," Simon said.
"Hurricane Sandy was what we had preached about for years," said Chris Clark, president of Harbormasters and a representative for Structurmarine in the Florida market. He recalled a marina in Great Kills Harbor, New York, that he worked on in 1987 that took a direct hit during Hurricane Sandy in 2012. "Everything was wiped out," he said.
Clark said good engineering and a properly designed anchoring system is critical for marinas in storm-prone areas. "You have to really believe what is going to hit you and then design for it.
If you are in a hurricane zone, you have to have the equipment that will withstand it," Clark said.
Simon said often times marina owners must find a compromise between what their budget will allow and building infrastructure to withstand a higher category storm.
He said getting accurate storm surge data can be complicated as well with engineers giving varying estimates for the same area. During the design phase, they study the storm surge records of past storms and make predictions based on trends. "It makes a huge difference if the storm surge is going to be higher," Simon said.
He gave an example of a marina they were working on in Fort Myers, and the engineers developed a plan that would withstand higher surges than the area usually experienced. He said the owners questioned the plan, saying if the water got as high as the engineers were predicting it would flood the homes surrounding the harbor.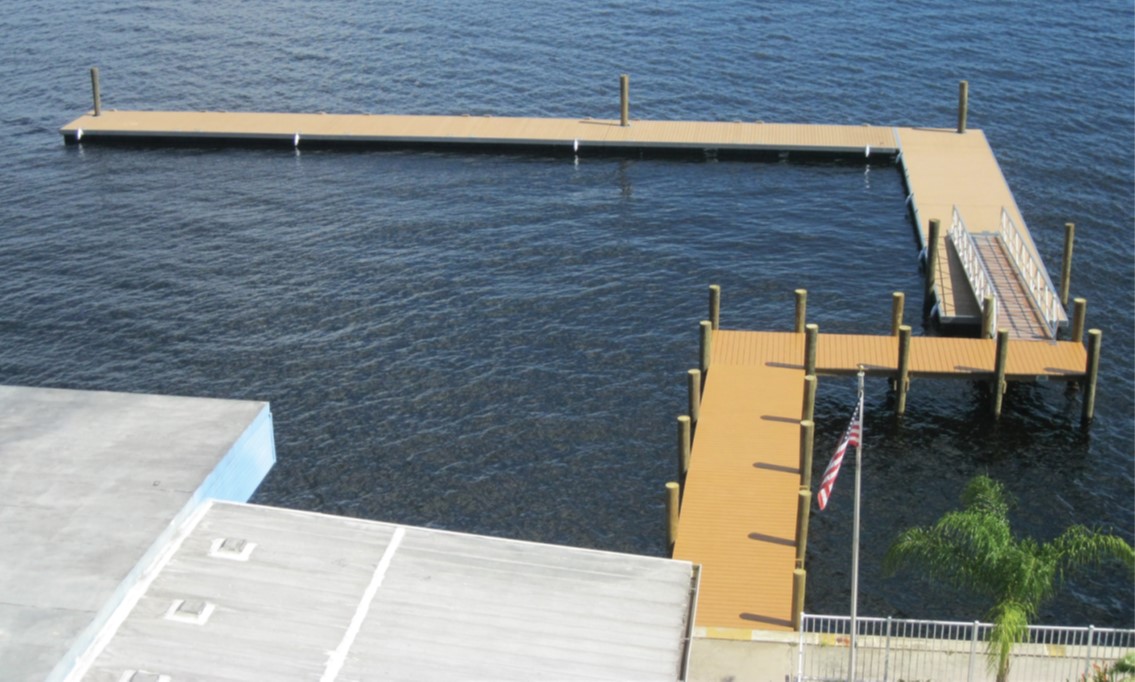 The floating dock and gangway installed at the Best Western on the Fort Myers waterfront withstood Hurricane Irma in September.
"They had lived there for decades and never seen water that high," Simon said. "Fortunately, the engineers were able to convince the owners to go with the design for a higher storm surge. It wasn't that far into the future for them. Sure enough, Irma hit."
Structurmarine also worked with Carroll Properties to install a new floating dock at the Best Western in Fort Myers. Most of the boat traffic there is transient with people docking their boats to come on shore for lunch or dinner; rarely do they have boats docked overnight. Todd Carroll said the primary storm preparation they have there is making sure everything is off the docks and pulling in the gangway as a safety precaution to keep people off the docks.
"The new Structurmarine floating dock has us better prepared," he said. "They fared really well. I was really surprised how well everything fared."
Marina owners interested in creating a hurricane preparedness plan, can contact their state marine association for guidance. Boat U.S. offers sample plans on its website. FEMA and the National Hurricane Center (National Oceanic and Atmospheric Administration) provide storm precaution tips on their websites.