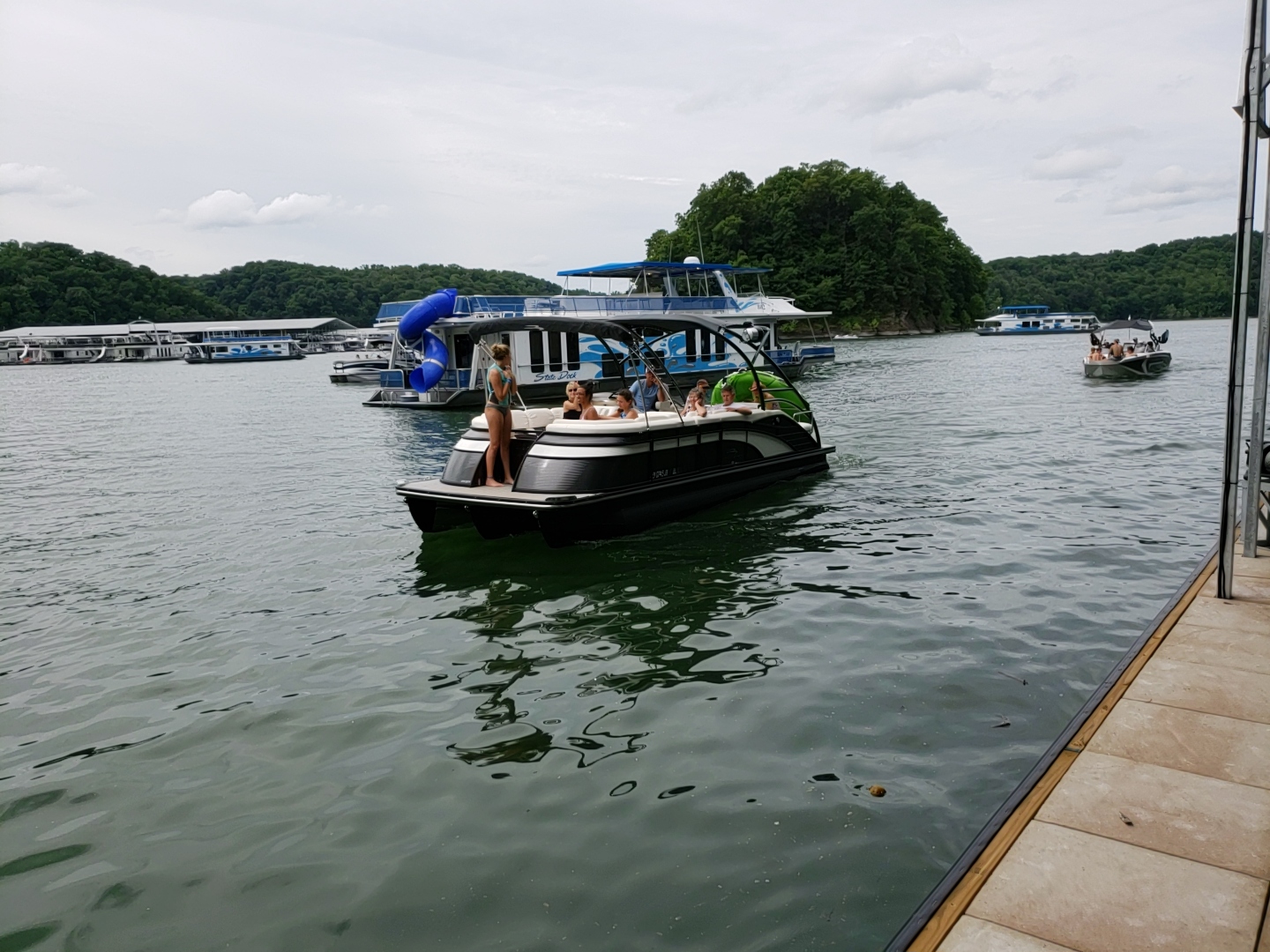 Pontoon Boats – No Longer Just A Floating Raft
Published on March 22, 2021
I can remember as a younger kid that a pontoon boat was essentially a raft with an outboard motor. Great fun and lots of splinters from the aging wood deck!
My memory and reality are not too far apart. In fact the very first pontoon boat is widely credited to have been created by Ambrose Weeres in 1951 by setting a wooden platform on top of two rows of watertight steel barrels that he welded together end to end. That first "boat" was tested on Horseshoe Lake in Stearns County, Minnesota. The following year he founded Weeres Industries and took orders for 40 boats. The rest, as they say, is history, and while Weeres sold his new company in 1956, Weeres Industries went on to sell thousands of boats for some six decades prior to being taken over by Premier Marine.
Today there are many companies making pontoon boats and they range from around seven feet in length to well over 100 feet, with widths ranging from four to 20 feet. Of course the sweet spot, representing the overwhelming majority of boats sold, is still in the 20 to 30 foot length with a beam of eight to eight and a half feet – the magic width for still being trailerable.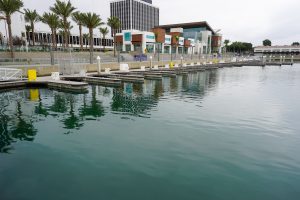 It is pontoon boats that helped lead the North American recreational marine industry out of the Great Recession and the worst boating sales slump in decades. Sales since have been growing steadily, and the pontoon sales numbers have typically seen the greatest percent increases year after year, with about 58,000 pontoon boats sold in 2018, and about 60,000 boats in 2019. In fact, pontoons now represent about one-third of US new boat sales, according to the National Marine Manufacturers Association (NMMA). The final numbers are not quite out for 2020 as of this writing, but with the pandemic helping provide the impetus for most all boat sales to go through the roof, the expectations are that the pontoon boat numbers will be very, very good.
Sign up for the Marina Dock Age newsletter.
Our newsletter delivers the latest news straight to your inbox including breaking news, our exclusive content covering the marina and boatyard industry, new products, and much more.
Who are buying the pontoon boats? The majority of the buyers are still baby boomers, but there have also been been increasing numbers of millennials. Millennials' interest is of particular importance as they have, to date, been the least likely to enter into boating. The reason could be attributed to the versatility of the boats as well as the relatively lower cost of the investment, even for the most outfitted purchase, compared to more traditional boats.
The importance of bringing younger generations into boating cannot be overstated. The industry has long been struggling with ways to bring younger participants and newcomers into boating. The more the younger generations are exposed to having fun in boating the higher the probability for growing future populations for boating.
The rise in pontoon popularity is easy to understand as the industry has transformed itself from the basic raft to a full spectrum of choices, from entry-level water transportation to luxury fast-moving recreational platforms, some even with upper decks. Found mostly on inland lakes and rivers, they are extremely versatile, maneuverable and can come with all the power one desires for cruising, fishing, watersports such as tubing, water skiing, knee-boarding, just landing on a beach exploring and, of course, entertaining. These boats are designed for function.
Some would argue that pontoon boats fall into three categories – a single deck, double deck, and those that are more of a houseboat. Some pontoon manufacturers might take issue with the latter being called pontoon boats. They all are versatile, relatively easy to operate, comfortable, and can be retrofitted with a wide range of luxury accoutrements.
Increase in Popularity
Their popularity versus other recreational boats is likely because they are more of a family boat and some would argue a party boat (even if one doesn't think the same boat would be equally appealing to those two user groups). In fact, not too long ago, when pontoon boats started gaining popularity, the party boat (or party barge) is how many people referred to them.
As noted by the Pacific Northwest's Hagadone Marine Group, the top five reasons pontoon boats are becoming more popular are, "plenty of storage, easy for beginners and families, longer lifespan, plenty of customization options, and perfect for everything." This might be part of their sales department's pitch, but pontoon boats can be pretty versatile and the industry keeps developing new models geared towards specialized functions. But more importantly pontoon boats are on average less expensive than equally sized more traditional boats that easily may cost anywhere from two to three times as much (though some of the luxury pontoon models are definitely trying to trim that savings!).
Pontoons are basically in a rectangular design and as such are relatively easy to drive, maneuver and dock because of the shape and speed of the boat. Because of their size and rectangular shape with two to three aluminum pontoons, the boats are also safe because they are difficult to flip or tip. While at the same time, depending on their size and power, they are able to have needed speeds for waterskiing and wake boarding. The aluminum hulls are much more forgiving for landing on a beach as well as bumping into docks or touching rocks than more traditional fiberglass or wood hulls.
The design also allows for more people on the boats than the traditional v-hull boat of the same boat length.  However, pontoon boats are the most comfortable and are best used and performing in flat and relatively calm water. They are not good in heavy seas, and while there have been some moves by manufacturers to make open water vessels, that segment is still fairly nascent.
Abundance of Amenities
Like the RV industry, pontoon boaters like to get away from it all but want to take all the accoutrements with them. The pontoon industry has seized upon providing all sorts of amenities. And as the boaters want to get away and go to an island and camp overnight – others prefer to stay on the boat overnight, which is where one might think having a cabin would come in. But by and large pontoon boat aficionados have rejected manufacturer's attempts to offer cabin options – the exception being canvas type covers that can turn all or part of the pontoon into a floating tent. The cabins seem to just be too far away from the spacious open deck that pontooners most love.
The exception to that of course would be those who have taken the cabin concept and turned them into houseboats with sizes up to and over 100 feet, dwarfing your typical RV. These floating homes can be outfitted with anything and everything one can conceive for their home plus the addition of all the watersports paraphernalia, though you won't be waterskiing behind one (unless you bring along your ski boat).
Some have taken the larger boats to be used as guest cottages, hotels, and even offices.
In the U.S. these boats typically have engines and can travel. Many use them similar to a RV and explore the lakes and rivers. Many have slides and other recreational toys that encourage family use.
In some other counties, particularly in Asia, they are ordered without engines and are used more as entertainment venues, hotels and housing.
Looking Toward the Future
For marinas, pontoons boats, due to their rectangular shape and typical configuration, are easily boarded from the front end, which can more easily allow for dockage without fingers, allowing more boats at a dock than the more traditional recreational boats.
They are also a good source of revenue for the rental market, not only for a weekend or couple of days but for a week or longer periods.
While the pandemic has been a great accelerator for the demand for pontoon and other boats, the issue, especially for marinas, will be to keep the owners interested in boating. Holding regattas and other water sporting events are just a couple of ways. Meet-ups for a barbeque are always a popular attraction in more normal times. And of course, talking with customers, finding out what they are thinking and looking for, testing out ideas and going the extra mile are all great ways to ensure the future for pontoon and other boating.
Dan Natchez is president of DANIEL S. NATCHEZ and ASSOCIATES Inc., a leading international environmental waterfront design consulting company specializing in the design of marinas and marina resorts throughout the world. He invites your comments and inquiries by phone at 914/698-5678, by fax at 914/698-7321, or by email at dan.n@dsnainc.com.