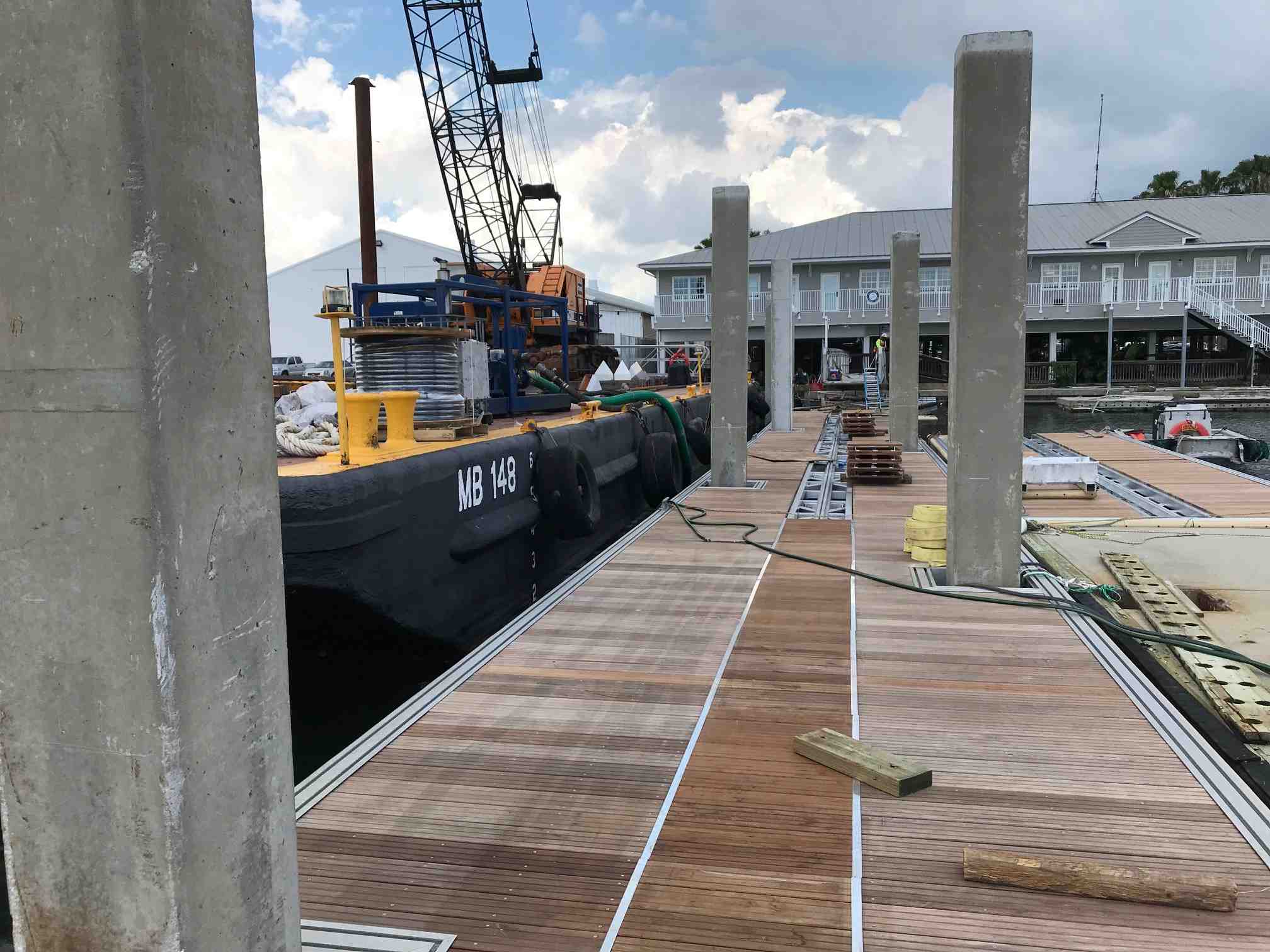 Port 32 Marina Installs New Docks
Published on April 29, 2021
Port 32 Marina on Tampa Bay is a busy facility, with 40 wet slips, eight transient slips and 720 dry stack slips that can accommodate boats from 18 feet to 40 feet. But its location is partially exposed, open to about four miles of fetch to the southwest across the deep bay waters.
"Every time we get a bad storm from that direction, we suffer dock and gangway damage. Our old waler-style concrete docks just can't handle the waves", says Mike Vinson, the marina's general manager. "What makes matters worse is that all the utilities for the western side of the marina run through these docks, which also suffer damage during the storms." A storm in 2019 was the final blow, causing total dock, gangway and utility failure."
The marina worked with Marina Technologies to select a replacement. "They were looking for a heavy-duty floating dock system that would resist the strong winds and waves from Tampa Bay, but also have ample room and easy access for all the utilities," says Bob Berry, Marina Technologies' project development manager.
Port 32 considered both structural concrete docks and heavy-duty aluminum docks. It eventually chose the aluminum system, because it was significantly lower in cost while still offering excellent resilience in rough water conditions.
The aluminum-framed docks feature Ipe hardwood decking, a two-foot-wide central top-access utility trough with removeable panels, adjustable/removable cleats, heavy-duty PVC rub-rail and high-stability concrete floats. The docks are anchored with 18-inch-square, pre-stressed concrete piles.
Sign up for the Marina Dock Age newsletter.
Our newsletter delivers the latest news straight to your inbox including breaking news, our exclusive content covering the marina and boatyard industry, new products, and much more.
Phase 1 of the project included replacing the main access dock, which is 12 feet wide x 150 feet long. It provides dockage for transient boats up to 80 feet long. Marina Technologies also replaced all the utilities – pedestals, lighting, power, water and fire suppression – for the marina's western side, and repaired the existing aluminum gangway.
Due to the poor condition of the remaining existing concrete docks and wood waler, the marina left a one-foot gap between the old and new docking systems. Marina Technologies installed an arched aluminum transition plate, which joins the two dock systems while allowing them to move freely and independently during storms.
Marina Technologies completed the project in the summer of 2020. Phase 2 renovations will include replacing the remainder of the west dock.