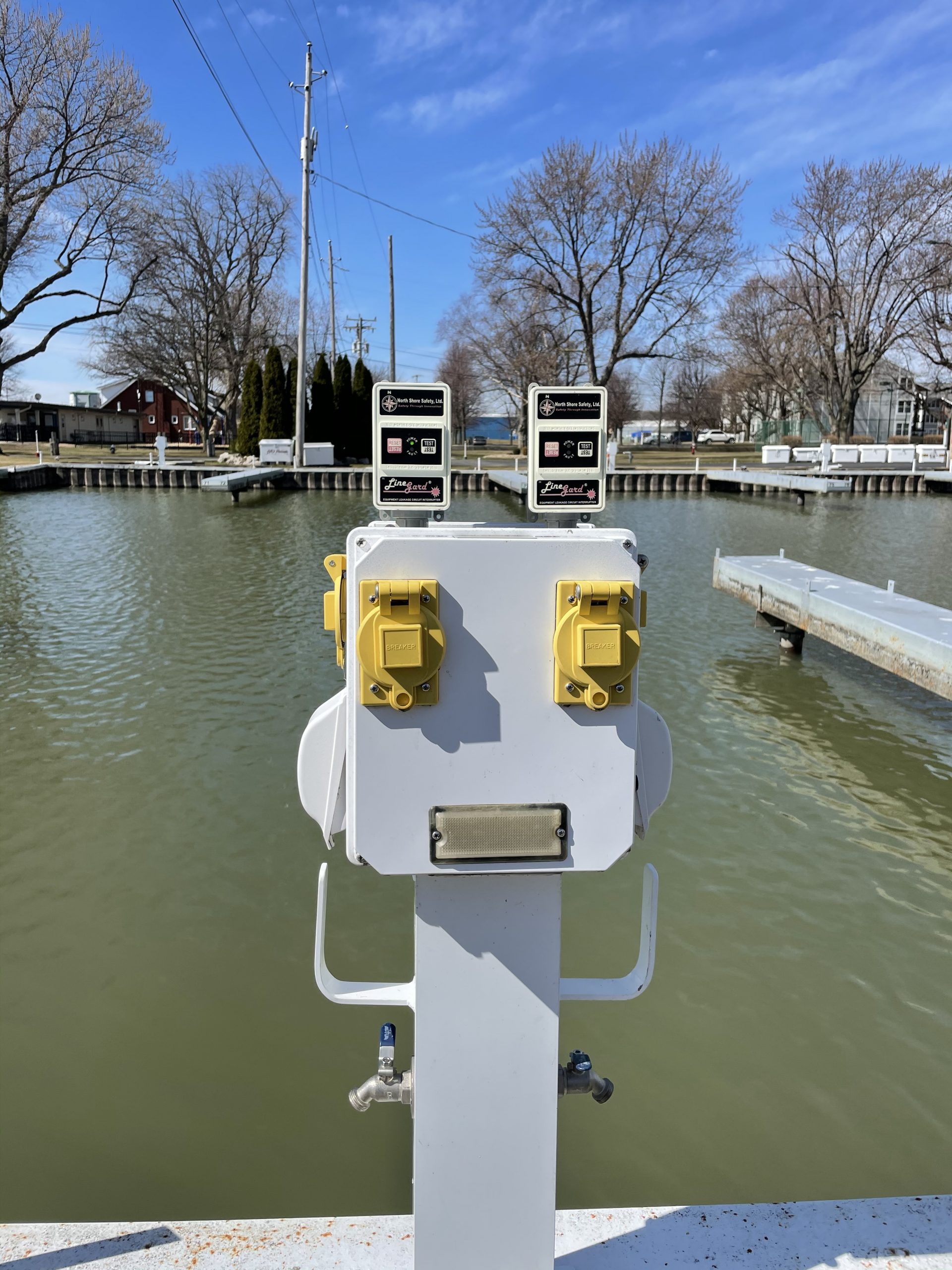 Port Clinton Yacht Club Aims to Prevent Electric Shock Drowning
Published on March 22, 2021
After learning about Electric Shock Drowning incidents at other marinas, the Port Clinton Yacht Club, located on 11 acres between the shores of Lake Erie and the Portage River, took a proactive step to try to prevent such tragedies.
Electric Shock Drowning occurs when stray electric current enters the water and enters the human body with a sufficient amount of current to cause paralysis, leaving the victim immobilized and resulting in drowning. In many instances, people trying to assist the drowning person are also shocked, making rescue difficult.
Electric Shock Drowning occurs at marinas or docks when the electricity enters the water from the wiring of the dock or marina, or from boats that are connected to the marina's shore power.
Dave Obergefell, who was the Port Clinton Yacht Club commodore in 2017, said they started by asking their electrician to review the existing electrical system. Although there had not been any incidents at the club, they determined the system needed to be upgraded to minimize the Electric Shock Drowning (ESD) risk.
Being Proactive
Rather than installing all new pedestals, the club invested approximately $30,000 to retrofit about 60 existing pedestals with Equipment Leakage Circuit Interrupters (ELCI). The devices, which serve about 100 docks, are manufactured by North Shore Safety.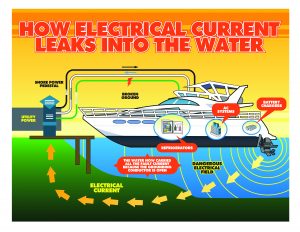 Sign up for the Marina Dock Age newsletter.
Our newsletter delivers the latest news straight to your inbox including breaking news, our exclusive content covering the marina and boatyard industry, new products, and much more.
The ELCIs were installed during the winter when there were no boats in the water, and it took the electrician about a week to complete the project. Obergefell said it was a relatively easy installation with just a few minor tweaks needed.
The North Shore Safety Marine ELCI is a ground fault protection device that is installed at the shore power pedestal. The 30-amp and 50-amp permanent mounts have a National Electrical Manufacturers Association (NEMA) 4x wet location rating with an enclosure that resists most chemical and UV light exposure.
"Rather than completely replacing the entire pedestal, marinas can retrofit pedestals with the Marine ELCI so you can efficiently and cost-effectively meet National Electric Code and protect members and guests," stated Sean Swick, president of North Shore Safety.
North Shore Safety also loans marinas equipment so their electrical team can self-evaluate and determine whether boats are leaking electrical current into the water.
The ELCI has red and green LED indicator lights. A green light means the unit is on and is providing safe electrical power to the boat. The red light indicates the power is off and more attention is needed to determine the cause of electrical current leakage.
Obergefell said the indicator lights make it easy for the staff to determine what boats need attention. When a red light is on, they first reset it to see if it clears. If not, they know there is a problem with the boat and notify the owner.
They have a tester that can usually pinpoint where the problem is. "It can be something as small as a loose wire or something more complicated like an air conditioner," Obergefell said. Some other common culprits are bad wiring, hot water tanks, or even small appliances such as a coffee maker.
Obergefell said most boat owners don't know they are having problems with their electrical system and appreciate the help in resolving the issue. "People are happy we help them through this."
Sometimes there are issues when visiting boats plug into the power system and the ELCI detects electric current leakage. The yacht club staff has to explain to boaters what they are doing and why. Boats are not allowed to connect to the shore power until the issue is corrected. "We will not allow anyone to bypass the system. We will not do it," Obergefell said.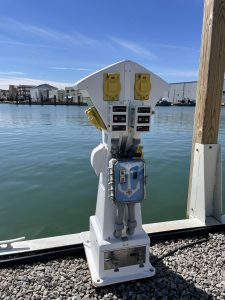 In the first year after the ELCIs were installed at the Port Clinton Yacht Club, 10-12 boats were detected with significant leakage. "Any of these leakage situations could have led to a minimum of a shock to an Electric Shock Drowning death had someone entered the water near one of the leaking boats," Obergefell said. "We are very proud that the yacht club has these devices. We will never know if we have saved someone's life."
Reducing the risk of ESD
In addition to installing equipment such as the Marine ELCIs, marina owners and operators can help prevent ESD by posting "No Swimming" signs at the marina and docks.
"Don't allow swimming in the marina, or any place where there is AC power," said Kevin Ritz from the Electric Shock Drowning Prevention Association. "That will do a lot to prevent ESD. It's challenging, but a simple thing and it doesn't cost anything." The EPSDA offers "No Swimming" signs on its website.
He noted enforcing a "No Swimming" policy can be challenging because people naturally want to swim around the docks and their boats. He suggested having safe designated swimming areas that are protected from the hazards that electricity presents.
ESPDA recommends no swimming or entry into the water within 150 feet of any electrical source on the water, in the water, or at the water's edge. The organization has issued a statement in regard to swimming in areas protected with GFCIs and other safety equipment: "Codes and standards are not intended to be a 'green light' for swimming or entering the water." The green lights on alarms do not warn of impending danger and could instill a false sense of safety. Even in protected areas, if there are swimmers in the water and something suddenly goes wrong on the boat or the GFCI fails, the swimmers would be at risk for electric shock. Ritz used the analogy of a boat being like a hair dryer in the bathtub.
Ritz said most instances of electrical current leakage occur because of issues with the boat's electrical system, not the marina or dock wiring. "Boats are not like houses, where there is someone enforcing the codes for house wiring," he said.
Ritz recommends the use of testers, such as the one the Port Clinton Yacht Club uses, that can be plugged into an individual boat to test its circuits. The tenant's contract should include a clause that allows the marina to turn off power to a boat if the tester indicates there is a problem with the wiring. He said some boat owners may object and say their boat cannot stay afloat without being connected to power.
"Every boat should be able to turn the power off without sinking. Boat owners should be educating themselves about the electrical system on their boat," Ritz said. "If getting push back from tenants, ask, 'Do you want your grandchildren to fall in the water and get shocked or worse?' Of course, no one wants that."
Installing an isolation transformer to the boat is another step a boat owner can take to protect themselves and their vessel. Isolation transformers eliminate shock hazards to persons on board and in the water adjacent to the boat. They can also prevent galvanic corrosion of metal hulls and propellers.
ESD Education
Ritz, a life-longer boater, had never heard of ESD until tragedy struck his family. He helped organize the Electric Shock Drowning Prevention Association after his 8-year-old son died of ESD while swimming in a marina with friends in 1999.
"I started looking at people who had gone through the same thing," he said. "I started reaching out to other family members to give them support and to say, 'Hey, you are not alone.'" Ritz wanted to educate the general public about the issue. "It is such a tragedy when it happens, and it can be prevented," he said.
Everyone deals with grief differently. "I wanted to understand how this could happen," he said. "I spent all my excess time educating myself about marine electrical. There are a variety of wiring systems and not a lot of consistency or adherence to standards."
For several years he traveled the country doing presentations for law enforcement, dive teams, the U.S. Coast Guard, marine organizations. "Anybody that would listen. Anything I could do to get the word out, but not harming the boating industry."
He said when he first started, some people didn't want him bring attention to ESD incidents for fear that it would reflect poorly on the boating industry.
"We need to talk about it and address the issues, acknowledge it happens and how to prevent it," he said. "We can do it in an intelligent way that doesn't put anybody out of business."
He said marina operators are an important part of the process and can take the steps to protect their tenants and guests, their property, and help educate the boaters who use their facilities.
Ritz is a Master Marine Technician and is the lead systems instructor at Northwest School of Wooden Boat Building in Port Hadlock, Washington. He teaches technicians how to identify and correct problems in marine electrical systems. He said a marine survey when a boat is sold might not include a thorough review of the electrical panel, so issues may go undetected. "I want to try to educate people, to help boaters and in turn help marinas."