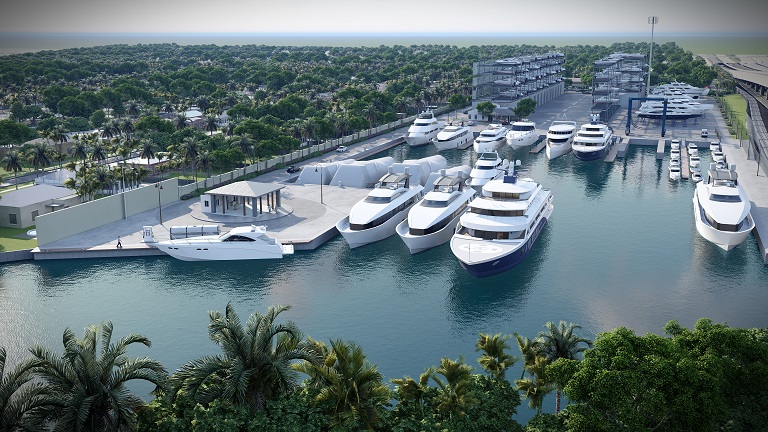 Port32 Fort Lauderdale To Open Soon
Published on October 29, 2018
The Fort Lauderdale Boatyard & Marina and Jackson Marine are under construction and will open as PORT 32 Fort Lauderdale later this year. PORT 32 Fort Lauderdale will open as a service destination with in-water service slips for yachts up to 150 feet and a self-service boatyard with a new 150-ton travel lift. Additionally, the property will have the only fuel dock on the New River within the vicinity of Marina Mile. The marina is located on the north side of the New River across from Lauderdale Marine Center and Marina Mile Yachting Center.
As a multi-phase development project, PORT 32 Fort Lauderdale will add commercial spaces available for lease for on-site marine service contractors and vendors, as well as retail/office space for yacht and center console sales and other marine related uses. Multi-purpose storage units will also be available to lease. PORT 32 Fort Lauderdale has plans to become the largest drystack in Broward County with slips from 25 to 55 feet. Featured amenities will include concierge services and a captain/crew lounge with TV, Wi-Fi, laundry, shower facilities and grilling area.
PORT 32 Fort Lauderdale joins a collection of marinas within the PORT 32 brand. The company also owns PORT 32 Palm Beach Gardens, PORT 32 Tierra Verde and PORT 32 Tampa. Additionally, PORT 32 manages Charleston-based marinas Ripley Light Drystack, Shem Creek Marina and Ashley Marina.