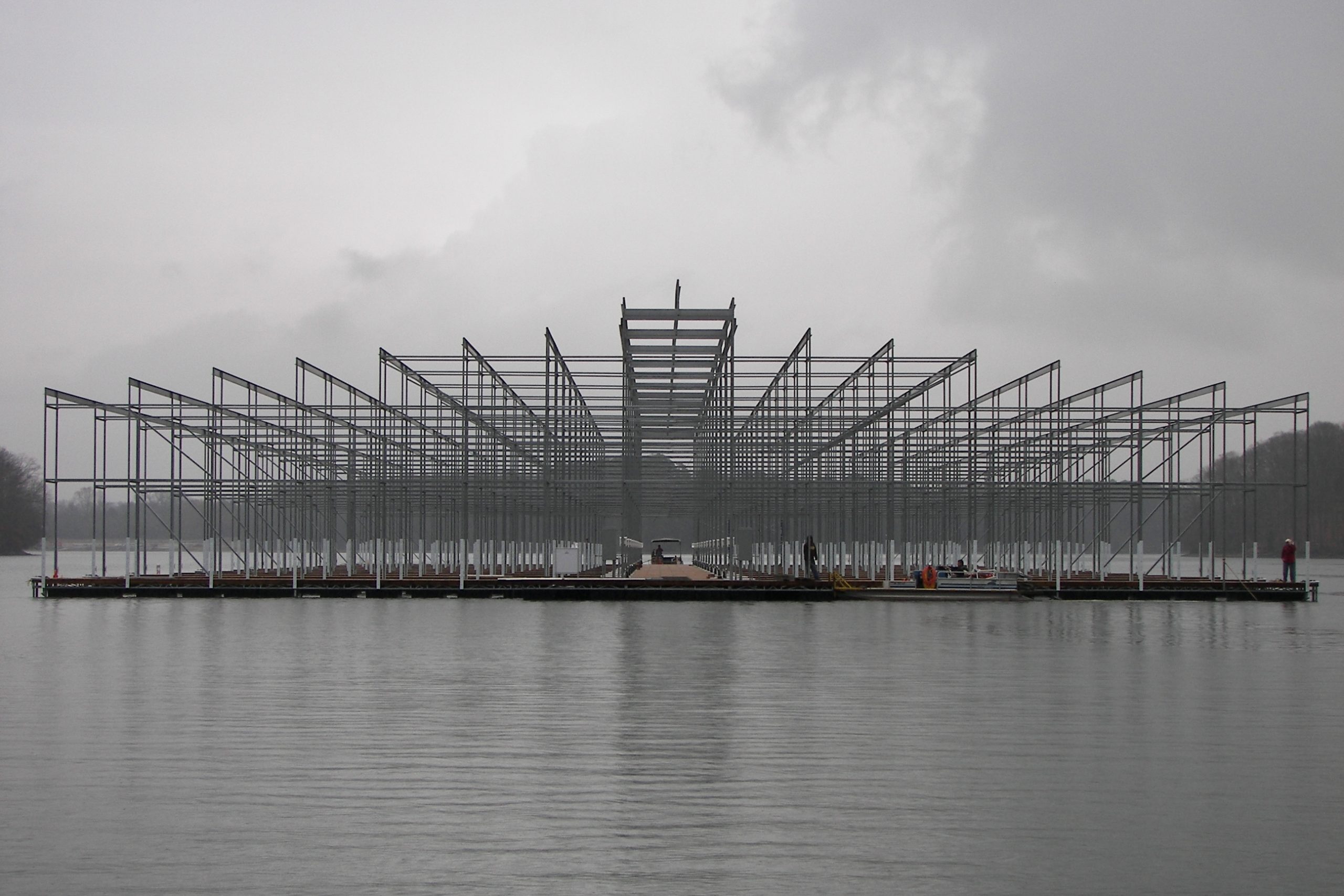 Supply Chain Woes: Materials Running Short as Prices Rise
Published on June 24, 2021
Doing business in 2020 was difficult for many companies, including dock manufacturers. In addition to dealing with COVID-related labor shortages and the complicated logistics of moving people and materials to various projects, dock builders were also confronting skyrocketing materials prices and delays in obtaining the products they needed. Those supply chain problems have lingered into 2021, and there's little relief expected anytime soon.
Meeco Sullivan, which manufactures timber, steel and aluminum docks, and Wahoo Docks, which builds aluminum docks, began feeling the impact on their business late last fall. "We have seen a significant rise in the cost in all three dock materials. Lumber has gone up more than aluminum and steel; it has more than doubled in cost. So that's been very impactful," said Peter Ladouceur, president of the two companies.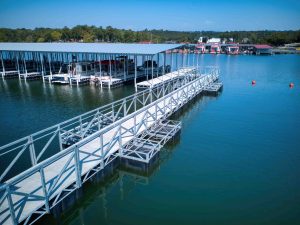 Although the two companies have dealt with some timber shortages during this period, they have not, as yet, had problems obtaining the metal materials they need. But some of their suppliers have been warning about possible steel shortages in the coming months.
MariCorp U.S. has already experienced that problem. The company has been having trouble getting the metal coils it needs for the purlins and roof sheathing of its covered docks. "There's been a huge increase in price, and with at least one of our suppliers of colloidal metal there's been some rationing. They only allow us to buy a certain amount of linear feet per month," said Melanie Ashby, the company's vice president of business development.
Sign up for the Marina Dock Age newsletter.
Our newsletter delivers the latest news straight to your inbox including breaking news, our exclusive content covering the marina and boatyard industry, new products, and much more.
Materials shortages have made it difficult for dock manufacturers to meet their deadlines. "Generally, our cost of material has risen quite sharply, and the lead times for base materials such as the floatation foam we use has increased considerably. This has impacted the production schedules of current and future projects," said Mason Sears, vice president, sales and marketing at SF Marina USA.
With contract prices locked in a few months ahead of time, rapidly increasing prices have made an impact on dock manufacturers' bottom lines. "When you have a fixed price with a customer for a project and the materials cost go up, you will make less," said Sears.
Supply and Demand
There are several reasons for the shortage of materials and the resulting price increases.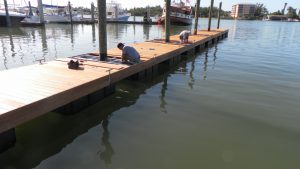 When the pandemic started, many builders expected that the home construction and renovation market, a major purchaser of wood and metal products, would dry up. But people working from home looked around and decided they wanted changes. Home renovation builders were swamped with orders for new decks, fences, porches and other renovations.
Many of these projects required yellow pine, a primary building material for dock builders like Meeco Sullivan and Wahoo. But many lumber mills were running at lower capacity because their workers were sick with COVID-19 or quarantining. Residential contractors began to experience lumber shortages shortly after the lockdown began, and over the next several months that spread to other parts of the building industry, including dock manufacturers.
The lumber supply was further depleted by the impact of Hurricane Laura, which caused extensive losses for Louisiana's timber industry in August 2020. Massive forest fires in California and in Oregon during the summer and early fall destroyed millions of acres of woodlands as well.
The steel shortage is a result of increasing worldwide demand for the material. Although the U.S. is the world's largest source of the scrap steel used for steel production, producers in this country must compete with others around the world to purchase the scrap. This has sent prices soaring and increased the lead time for all kinds of metal products, including those used in dock manufacturing.
Tariffs on lumber, steel and aluminum have been a contributing factor to rising prices as well.
The difficulties that dock manufacturers have had in procuring foam and treated lumber products can be traced back to the frigid temperatures that gripped Texas in February 2021. The cold weather shut down or damaged plants that produce the resins used for these products. The building materials supply chain is still feeling this disruption, so those products are still harder to find.
Supply Strategies
Dock manufacturers have adopted various strategies to cope with material shortages and price increases, and to minimize their impact on schedules and profit margins.
"If our materials are taking two or three times as long to arrive before assembly, the customers' delivery dates have to adjust," said Sears. "Being open and honest about the schedule and expectations is important." He noted that customers are often in the same position, with similar aspects of their own business in flux.
Meeco Sullivan and Wahoo did experience some slight slippages in delivery dates due to manpower and material shortages, but are now pretty much back on schedule, according to Ladouceur. They suffered some losses due to material price increases after the contracts were signed, but have now shortened the time that proposal prices are valid in order to avoid that problem in future projects.
"In order to protect ourselves, in some cases we've bought the material earlier on. We're able to carry that material, but there is a cost of carrying," he added.
MariCorp U.S. has tried a few different approaches to get the specialized metal shapes it requires for its highly customized docks.
"We have looked into alternative materials, but for that part of construction, the purlins and the roof, there's just no equal to steel," said Ashby. Although there are a limited number of suppliers for these parts, the company has been somewhat successful in finding new sources to supplement what their regular suppliers can provide.
Most suppliers have tried to assist by alerting MariCorp to upcoming material price hikes, but that assistance is limited because they don't know what the increase will be. As a result, MariCorp has changed the way it bids projects. "We always used to have a bid that was good for anywhere from 15 to 30 days, but now we're leaving that out of our bids. We're not guaranteeing the price for any time period," said Ashby. "Whenever somebody is definitely ready to sign the contract, we are revising the bid as necessary."
The company no longer buys materials when it's ready to begin construction. "Now, as soon as we get a contract, we're trying to procure all the materials for the project immediately, even if we know we're not going to begin manufacturing for a few months."
Like other builders, dock manufacturers are hoping that material supplies will increase and that prices will at least stabilize. But with the instability in so many supply chains these days, it's hard to predict when and if that will happen in 2021.
"Our suppliers tend to have the same perspective as we do. They're not certain if there will be a lot more price increases, but they don't believe there are going to be price decreases. They believe that prices generally ae going to stay high," said Ladouceur.
Since the construction market is still booming, the availability of building materials is not likely to improve any time soon, but the pricing outlook may be a bit better. "I've heard from different people in the lumber industry that they believe this lumber market is going to shake out in the next six months," Ashby said. "In the steel industry, no one's really predicting when they think it'll shake back out. We believe that it will. We don't think that the industry can support the prices of materials where they are on a very long-term basis. We don't expect them to come back down to where they were before the pandemic, but we do expect them to come