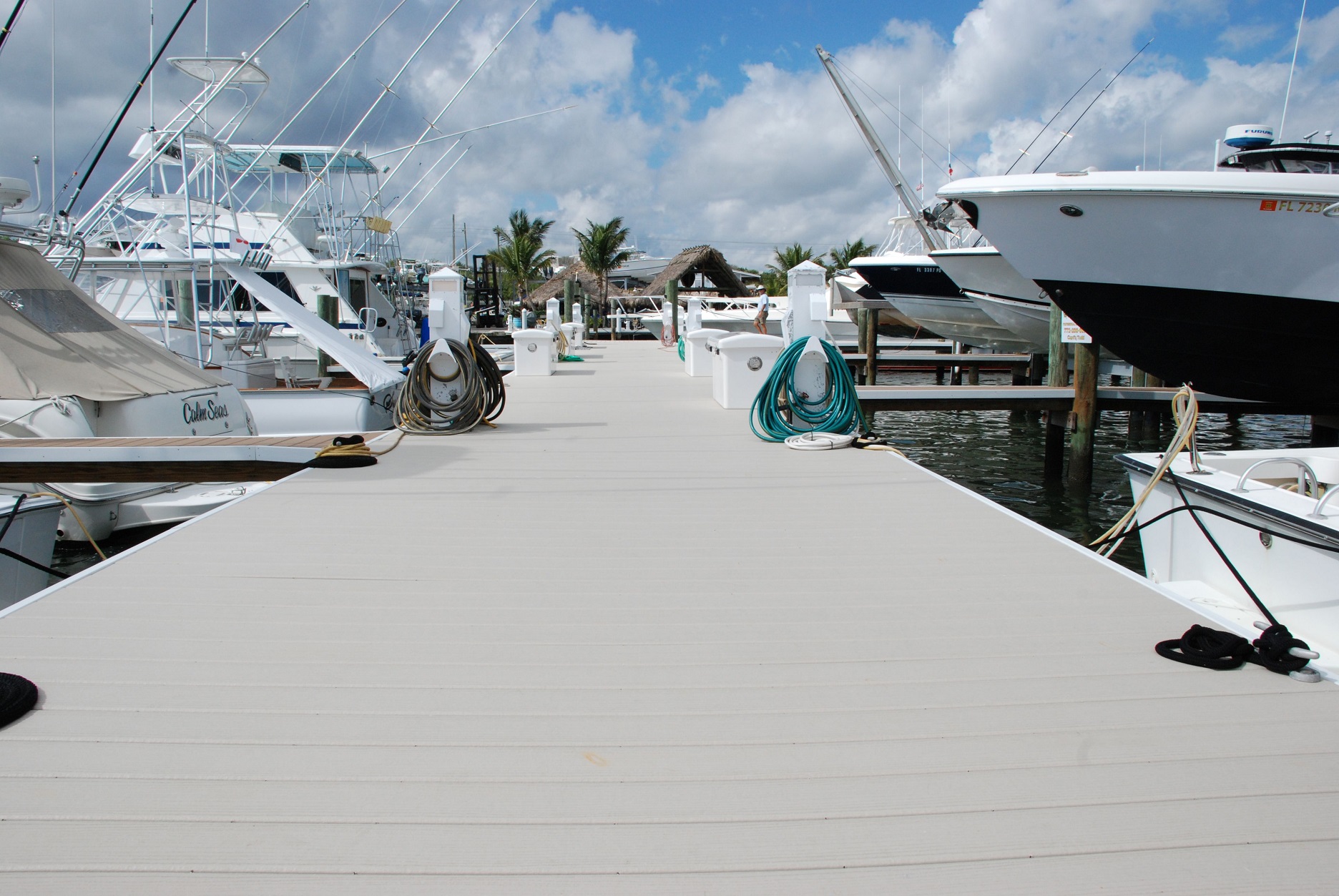 Synthetic Decking Options Serve as Durable Alternatives to Traditional Dock Materials
Published on November 15, 2021
Marina decking materials have come a long way over the last several years. While traditional pressure-treated wood is still a popular choice made by many marina owners for its authentic look and cost-effectiveness, others are increasingly opting for synthetic decking. The synthetic products are durable, able to hold up to extreme weather conditions, while also requiring minimum maintenance. They are environmentally friendly and come in a myriad of color and style choices. It's little wonder the deck is stacked in favor of wood alternatives.
Out of the Wood(s)
Pressure-treated lumber is the conventional choice for marina decking, from softwoods like pine and cedar to more exotic hardwoods like ipe and tigerwood. Besides it being natural and therefore, natural-looking, it is historically a popular choice for boat docks. "That is just cost-driven more than anything. It's relatively easy to get, and it's relatively inexpensive compared to synthetics," said Phil Hrack, vice president of sales for Lumberock, a composite decking manufacturer based in Illinois. However, he added, people are turning away from wood in part because of the annual maintenance, like staining, sealing, and refinishing, as well as wood's other inherent issues like mold, mildew, cracking, splintering, and wood-eating insects.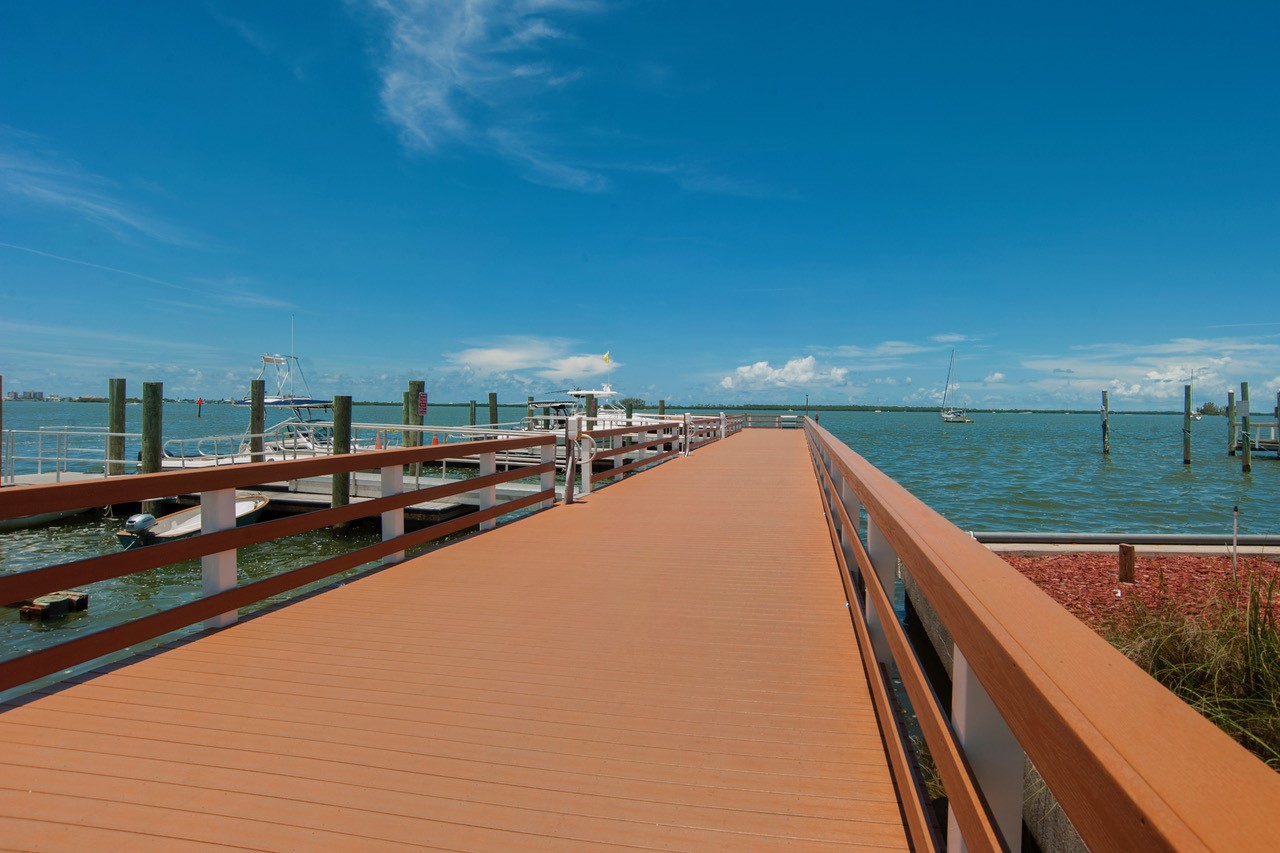 To those who prefer the look of wood, Hrack said, "The industry has gotten better and better. In my opinion, the look of composite is even better than that of wood." For example, there is a wider array of colors and styles in synthetic decking than ever before.
"A lot of the marinas are thinking more of the bottom line and are realizing that a longer-lasting product makes sense," added Alan Potts, director of structural solutions with the Illinois-based Tangent Technologies, a leading supplier of recycled plastic lumber, including marine decking.
Sign up for the Marina Dock Age newsletter.
Our newsletter delivers the latest news straight to your inbox including breaking news, our exclusive content covering the marina and boatyard industry, new products, and much more.
The current lumber shortage in the U.S. can make the synthetic option more attractive to those considering replacing their marine decking materials.
Synthetic Decking Options
Synthetic decking is an all-encompassing term for materials that are engineered versus materials that are organic.
Plastic decking, also known as PVC (polyvinyl chloride) decking, is made with all recycled plastic and synthetic materials; PVC can be capped—coated in an extra layer of protection—or uncapped. There is also cellular PVC that is a type a type of polyvinyl chloride that is softer, yet durable and flexible.
Composite decking is a blend of inorganic and organic recycled materials—plastic/polymer and wood fibers—and usually has more of an authentic wood look. HDPE has high-density polyethylene as its key ingredient and does not contain any organic materials or fibers.
Fortress Building Products in Texas manufactures co-extruded composite decking. Co-extruded technology covers the boards in a surface which is both scratch-resistant and water-absorbent with a lower expansion rate than typical composite decking. The company also makes PVC decking that contains an engineered polymer co-extruded cap.
Fortress Building Products uses bamboo flour instead of traditional wood flour in its cellular PVC and composite decking. "Bamboo, from an environmental standpoint, is easy and replaceable. On the performance side, there is much less moisture absorption in bamboo than in wood flour. Bamboo filler with our composite performs better specifically in a water environment where you have that potential for moisture absorption," said Toby Bostwick, vice president of product and brand, who added that because of its performance around water, PVC is becoming an up-and-coming choice for docks.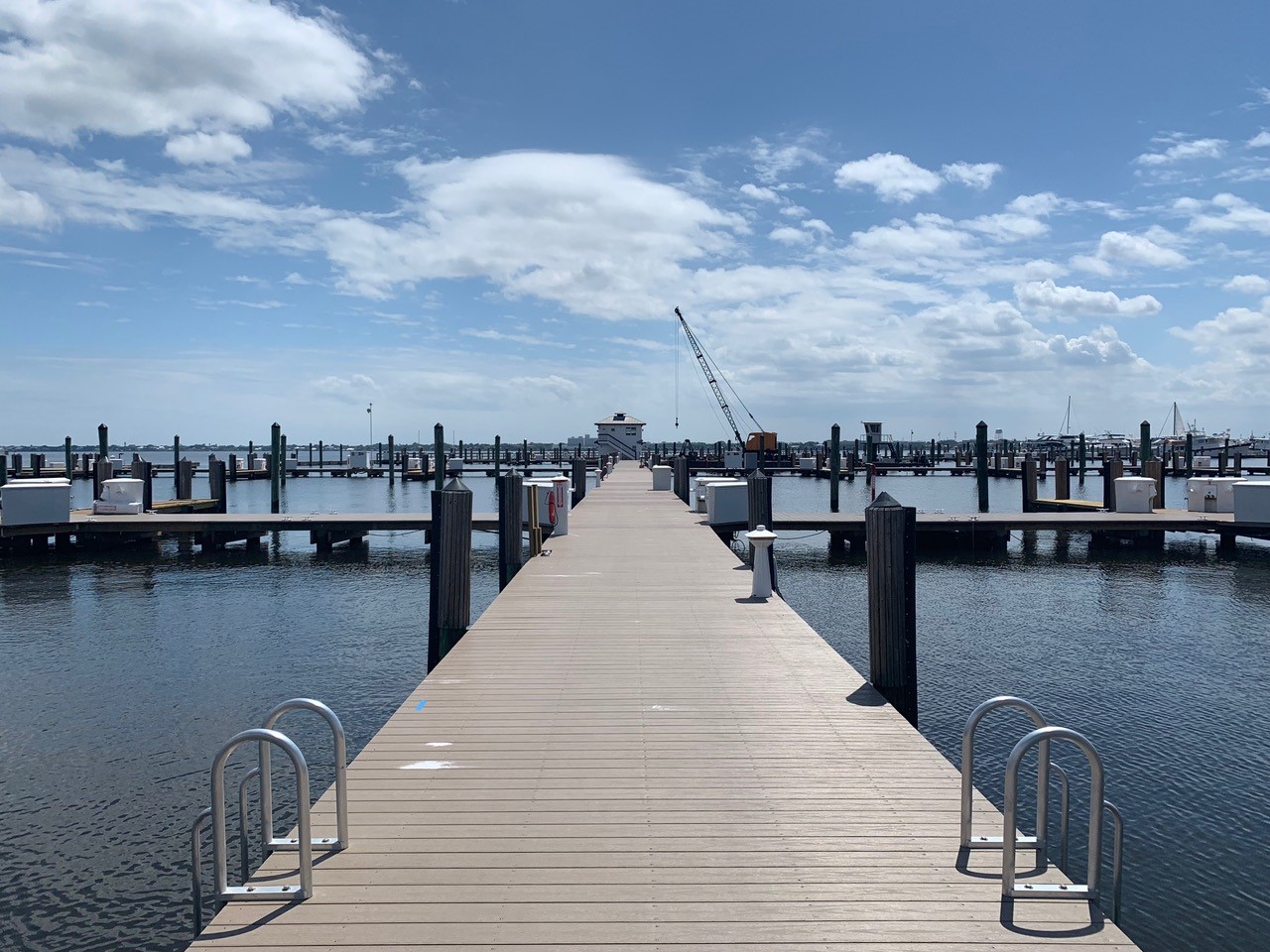 Lumberock's marina decking product is mineral enhanced plastic lumber, with UV-protected color additives. The 'marine grade' decking label means it stops water absorption and can withstand prolonged exposure to water as well as repel mold and mildew. "It is a product that is not going to break down because of the elements," said Hrack. "It's basically closed-cell construction for the deck boards; all other composites are open cell. Being a closed cell, that is what has allowed us to be able to go after that marine market so strongly and enhance our boards to create a marine-grade decking board."
Over the last several years, more marina owners have been choosing synthetic materials for their docks. Potts said the majority of marina owners are choosing some synthetic option. For marine decking, Potts's company utilizes HDPE, a blend of recycled plastics that is quick to install, easy to clean and is very low maintenance. "It performs; that is where we really shine. It's the toughest product, not the cheapest," he said. Bridge fenders around the country are made with Tangent materials, the same material used to make deck boards. "It is designed to take impact from ships and barges; that gives an indication of how tough it is," he said.
Bostwick agreed that synthetic materials are trending upward for marina docks, not only from a performance standpoint but through an aesthetic lens. "Now your boathouse can match your decking. It is now becoming a design element, whereas in the past it was more functionality. That trend continues to grow," he said.
Decks & Docks Lumber Company is a supplier of marine construction products with over 15 locations across the East Coast. Though they are a lumberyard, they sell a tremendous amount of composite decking. "As time has gone on, we are seeing more and more people make the switch to synthetic," said Alexis Camelio, outside sales representative.
This is primarily because people are realizing that the cost of wood, over time, includes all the maintenance. "Every year you typically will have to go out and pressure clean it and stain it. But when people get on board with synthetic, you get more bang for your buck, even though it is more expensive," she added.
Advantages and Benefits
The advantages of synthetic decking are multifold. Although there are some subtle differences among the various types of decking materials on the market, most experts agree that synthetic decking shares the following primary benefits:
Longevity/durability/toughness
Limited maintenance
Lack of splintering
Weather resistant
Moisture absorption
Environmentally friendly
Lots of color options
Cooler to the touch
Easy to install
Although all these factors are important to marina owners, longevity seems to be near the top of the list.
"The thing with composites is that they look newer longer, whereas with wood, you'll get the weathering, and this doesn't look as good as when you first installed it," said Hrack. Referencing a project that Lumberock installed in Florida in 2001, Hrack said the color looks virtually identical to what it looked like in 2001, compared to wood. "You're lucky to get five years out of a treated plank. If you are going with hardwood, depending on the environment, the life span is somewhere in the seven-to-twelve-year range," he added.
Also regarding longevity, Bostwick added, "Traditional composite has UV stabilizers, a chemical makeup that reduces the effects from the sun and stays more consistent in look, color and performance.
On the performance side, Bostwick praises composite decking as being readily moisture absorbent, thus preventing the boards from swelling.
Like the postal worker, who delivers the mail in rain, snow, sleet, or hail, synthetic decking can withstand all those extreme weather conditions, plus floods and tropical storms. For this reason, synthetic decking is especially well suited for the marina industry. "It is super tough, super durable, and performs well across a wide range of conditions, from arctic to tropical," said Potts. "It will not absorb any water; it won't become heavier."
Most products will work well in most climates but there may be special considerations for certain weather environments that can help narrow down the choices. For example, Bostwick said to expect thermal movement differences based on the composite material that is used.
"I live in Florida—one thing I like to think about is the thickness and density of material; that is something you want to take into consideration. How much impact can it withstand? The fastener type is a vital role if you are thinking of a dock application. A lighter color will reflect more heat in a southern atmosphere, so lighter colors, thicker boards and fasteners are something to take into consideration," he added.
In a northern climate, the freeze-thaw cycle will be different and you will want to think about that. "Your PVC product traditionally will move more than a wood composite or a bamboo composite; you will get more expansion and contraction," he added.
And there is something to be said about aesthetics—many people believe that synthetic decking simply looks terrific. "The biggest benefit is, you're going to get a warranty. Most of them come with 25-year fade and stain warranties, which obviously wood can't offer," said Camelio.
Return on Investment
If there is one potential downside to choosing synthetic decking, it is the upfront cost. However, prices are stabilizing, the wood supply has shifted, and the disparity between wood and synthetics is decreasing.
"With the last year and a half, when the supply chain and lumber prices rose, composites got to the point where they weren't quite on par with wood but the cost difference to go to composite wasn't quite that sticker shock it was in the past," Hrack said. For example, his company's product costs one-and-a-half times more than wood, whereas a couple of years ago, the cost was nearly four times more.
"It does even out in the long run. Our industry analysis points to, currently, the ROI is around three years; it used to be seven years," he added. And a savings on maintenance fees and labor is a payoff that can be seen within the first year.
Bostwick said that the total cost of ownership must be considered. "We look at upfront costs, installation included, but then you have to weigh in yearly upkeep. You may have to hire a maintenance guy, and then suddenly, the cost difference changes. When you look at the total cost of ownership, that payback flips in a three-to-five-year period." Potts agreed that marina owners could get a return within a short time span.
"It is definitely a long-term return on investment," said Camelio. "Projects built with synthetic decking will have a better resale value due to longevity, durability, and aesthetics."