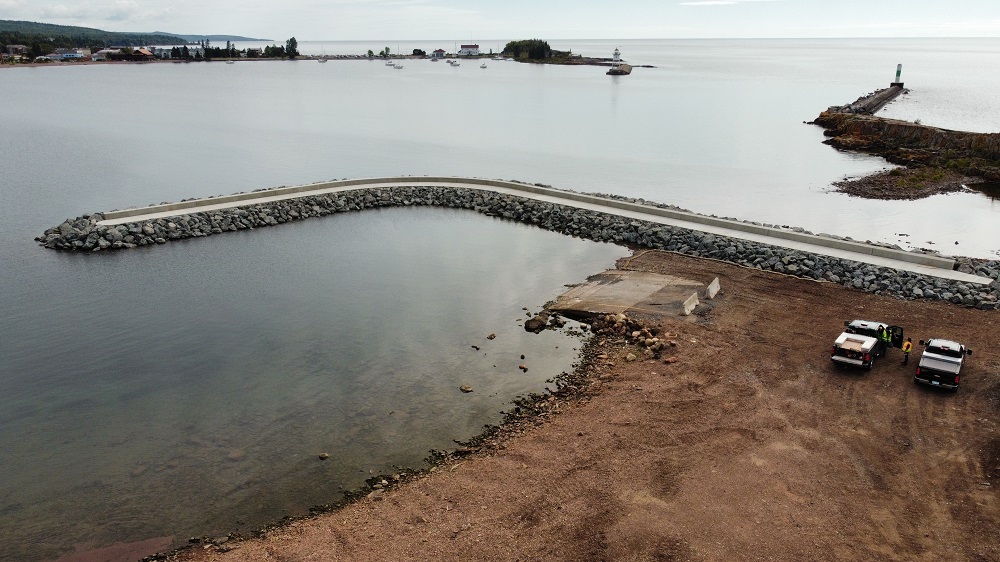 When Trends Converge: Charting Emerging Opportunities and Risks for the Marina Market
Published on November 15, 2021
COVID-19 is not the only trend that has impacted the marina market over the past two years. But this Forbes article headline from August 2021 captures the unexpected momentum it has injected into the outdoor recreation economy: "The Pandemic Has Forever Changed The Active Outdoor Business."
While forever is perhaps too long of a timeframe for a macrotrend, there are certainly reasons for renewed optimism. 2020's 13-year high in new boat sales went even higher in 2021 – and recent studies and surveys show that the growing interest in boating and water-based recreation is trending both younger and more diverse.
While no one wanted a pandemic to be the reason why, these are still positive developments for marina owners and operators to build on moving forward. At the same time, COVID-19 has also led to supply-chain issues that have rippled throughout the economy – driving up costs and driving down availability just when new consumer demand and construction needs are on the rise.
Similar to how the wakes generated by two boats collide with each other as they pass, trends do not act in complete isolation from each other. As we look ahead to 2022 and beyond, how will some of these still-emerging trends converge, overlap and potentially conflict with each other? How could this impact the moves that marinas will need to make to adjust to these changing conditions and opportunities?
Sign up for the Marina Dock Age newsletter.
Our newsletter delivers the latest news straight to your inbox including breaking news, our exclusive content covering the marina and boatyard industry, new products, and much more.
New Market Growth in Sales and Participation
As reported in the Forbes article referenced above, the pandemic led people outdoors in record numbers. This growth in participation also changed people's spending habits. The sale of kayaks grew almost 30% from May 2020 to 2021, just one of the many outdoor recreational products that took off during COVID. Within this growth was a coveted trend that manufacturers and retailers love to see: their new customers were getting younger.
These statistical trends have also been borne out in the recreational boating industry. A series of new surveys and reports provide a more nuanced understanding of the growth that started in 2020, continued throughout 2021, and appears primed to carry into 2022. The National Marine Manufacturers Association (NMMA) released its 2020 U.S. Recreational Boating Statistical Abstract in June. In a record year for the boating industry, 2020's total recreational marine expenditures reached a high of $49.4 billion, a 14.2% increase over 2019. NMMA's data show 415,000 first-time boat buyers entered the market in 2020.
The U.S. Bureau of Economic Analysis (BEA) published figures confirming the extent to which that boat buying spree has continued in 2021, with boat spending almost 50% higher than before the pandemic. According to the BEA, boating and fishing represent the largest outdoor recreation activities in the U.S., with $23.6 billion in current-dollar value added to the economy.
While it's difficult to predict how long this unprecedented growth is likely to continue, industry professionals widely agree that the most important long-term consideration is how to keep all these new customers engaged in boating. Looking more closely at the trends within the trends helps clarify who these new customers are, and what they might be looking for from their experience.
Boating and fishing are both experiencing an expansion of their traditional customer base. The average age of U.S. boat buyers fell to 49 in 2020, the first time it's been below 50 since the 1990s.
Boaters and fishers are also becoming more racially and ethnically diverse. A U.S. Coast Guard survey released at end of 2020 shows this trend was already underway in 2018, when an estimated 26% of the U.S. went recreational boating in much more diverse numbers than expected.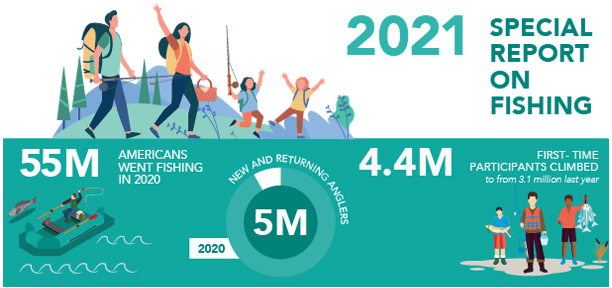 The Recreational Boating & Fishing Foundation's 2021 Special Report on Fishing found that first-time fishing participants climbed to 4.4 million in 2020. This represented a 42% increase over 2019, with African American participation experiencing the largest growth rate at 14.6%. Five million Hispanic Americans went fishing in 2020, the highest recorded volume in 14 years, along with 19.7 million females, a 10% increase over 2019. Youth fishing also took off, with 13.5 million youth ages 6 to 17 casting a line. Over 55% of those who tried fishing intended to continue the activity avidly or regularly in 2021.
The Coast Guard survey also found that while recreational boaters are becoming more diverse, boat ownership is decidedly not. More analysis is needed to clarify to what extent this might have changed over the past two years, but it seems clear that the emerging market of new boaters won't all be looking for ownership-based services, amenities, and experiences.
Continued strong growth of the boat-rental industry indicates where some of these new boater dollars are going. For example, women now account for 35% of Freedom Boat Club's 67,000 members — a rate much higher than the percentage of female boat owners.
Sales of wake sport boats were up 22% in 2020. The continued growth of the recreational water sport sector – including skiing, rowing, rafting, kayaking, canoeing, and powerboating – is likely a big contributor to boat ownership trending younger. Many water-sport enthusiasts are also seeking the associated health benefits – a fitness-centered market driver not traditionally associated with marinas.
The growth in online transient slip booking services also reflects an emerging sector of the market that won't necessarily be looking for seasonal slip rental or storage at a marina.
Heading into 2022, it will be extremely helpful for marina owners and operators to reevaluate their local and regional markets and consider strategies and investments that will help attract new customers to their facility.
Supply Chain Disruptions and Rising Costs
Increased demand is crashing headlong into limited supplies and delivery capacity across a wide segment of the global economy – and this is certainly true for the boating and marina sectors. The supply chain issues that many viewed as a temporary symptom of COVID-19 have led to some chronic product, material, and labor shortages, which have been exacerbated by transportation disruptions.
The good news for the boating industry is there is an order backlog stretching into next year. As Brunswick CEO Dave Foulkes reported in an August 2021 Boating Industry online article:
"Our 2021 production slots are sold out for the calendar year with five brands completely sold out through the 2022 model year. In fact, the sum of our wholesale orders for 2022 . . . is already roughly equal to our projected 2021 full year wholesale Boat Group revenue."
But while boat manufacturers and retailers are still on course for another strong year in 2022, marina owners and operators face a different set of challenges from the supply and labor disruptions and resulting cost inflation. One of the biggest immediate impacts has been on construction. Whether a marina is looking to expand its operations or just shore up its facilities for the upcoming season, it has become increasingly difficult to both schedule contractors and deal with the price increases. For example, many Gulf Coast marinas were still struggling to rebuild from 2020's Hurricane Sally before the 2021 hurricane season started.
Changing Water and Environmental Conditions
As the past few years have made clear, the environmental conditions needed to support the recreational boating market are eroding in many parts of the U.S. due to climate change. While sea-level rise and increased storm frequency/intensity remain huge concerns, 2021 highlighted the impacts of two other troubling climate trends: lower water levels due to drought, and increased water temperatures helping to fuel destructive blooms of algae, seaweed, and bacteria. In places where these extremes become ongoing operating conditions, the business losses can be devastating.
Lake Powell on the Arizona/Utah border represents one of the most popular boating destinations in the U.S. With so many favorable factors at work in the outdoor recreation economy, 2021 could have been a banner year for Lake Powell's water-oriented resorts and businesses. Instead, historically low water levels due to chronic drought conditions ended up shutting down much of the season. Beyond whether the individual marina facilities were able to operate, was the loss of public boat launches in other parts of the lake. The closure of these launches took away vital access points to the water and essentially shut down Lake Powell's summer vacation houseboat tourism market.
As reported in a Guardian article about Lake Powell's situation, "If this trend continues, the (U.S. National) Park Service is advising boating-based businesses . . . to make unpredictability part of their business model." Given that the Bureau of Reclamation predicts there's a 79% chance Lake Powell will drop another 29 feet below its historic low "sometime next year," it would make sense to account for that risk in 2022.
While climate change is contributing to many new problems, it isn't always the sole or primary cause of those problems. This is true of the unprecedented mass blooms of algae, bacteria, and seaweed that are occurring internationally. While warmer water temperatures are a contributing factor, research does not support the conclusion that these events are primarily due to climate change or are universally increasing.
It is easy to see how an anecdotal reading of the news in 2021 might lead to this conclusion, however. Stories from this past year include:
Toxic blue-green algae blooms (cyanobacteria) lingering far longer into the fall than usual on U.S. inland lakes and rivers, ranging from the Willamette River in Oregon to Lake Champlain in Vermont and New York to Lake Wylie in North Carolina.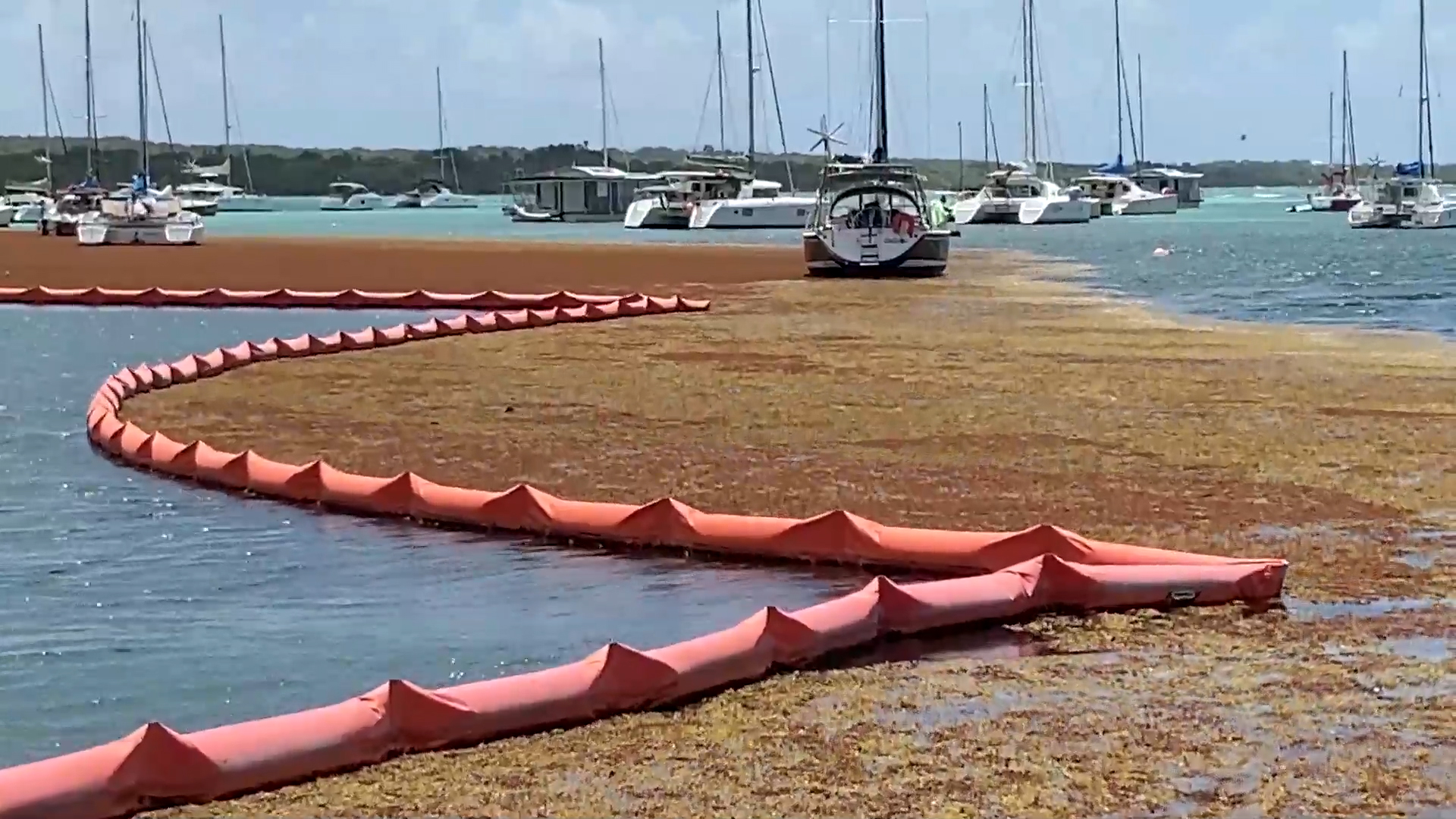 Harmful algal blooms (HABs) returned to Lake Erie with a vengeance in early September. Blue-green algae also continued to make disturbing headway in Lake Superior; once thought to be immune due to its colder year-round water temperatures and relative lack of nutrient runoff, Superior is now one of the fastest-warming lakes in the world.
Pahokee City Marina in Pahokee, Florida needed to break out the pumps in April to clean up a particularly severe HAB. According to the Florida Department of Environmental Protection, sample testing revealed the level of toxins in the marina's waters were 100 times higher than the health advisory limit.
Continued economic and environmental damage in the Caribbean and Mexico from the record blooms of Sargassum, has created a raft of seaweed so large that it's been named the Great Atlantic Sargassum Belt. The first mass bloom took place in 2011; the record bloom of 2018 was ten times larger. Researchers from the University of South Florida believe it is likely to become the new normal.
Add to this the impacts of red tide in Florida and a massive outbreak of "sea snot" in Turkey, and it can appear as if climate change is fueling all this. But more and more studies indicate that increased nutrients in the water are the primary driver. A climate-induced warming of water temperatures combines with surplus nutrients from pollution and run-off to spur noxious feeding frenzies that can cause ecological damage and shut down waterfront tourism.
As these and other trends all converge in 2022, it will be critical for marina owners to evaluate and anticipate what it could mean for their growth and viability. Continued supply chain issues and cost increases could temper the positive momentum and growth potential for marinas, and local environmental conditions could pose disruptive risks to operations. Factoring these emerging opportunities and risks into both short- and long-term business planning will be the best way to adapt to the conditions ahead.
David Lantz is the waterfront practice manager for SmithGroup. He can be contacted at david.lantz@smithgroup.com