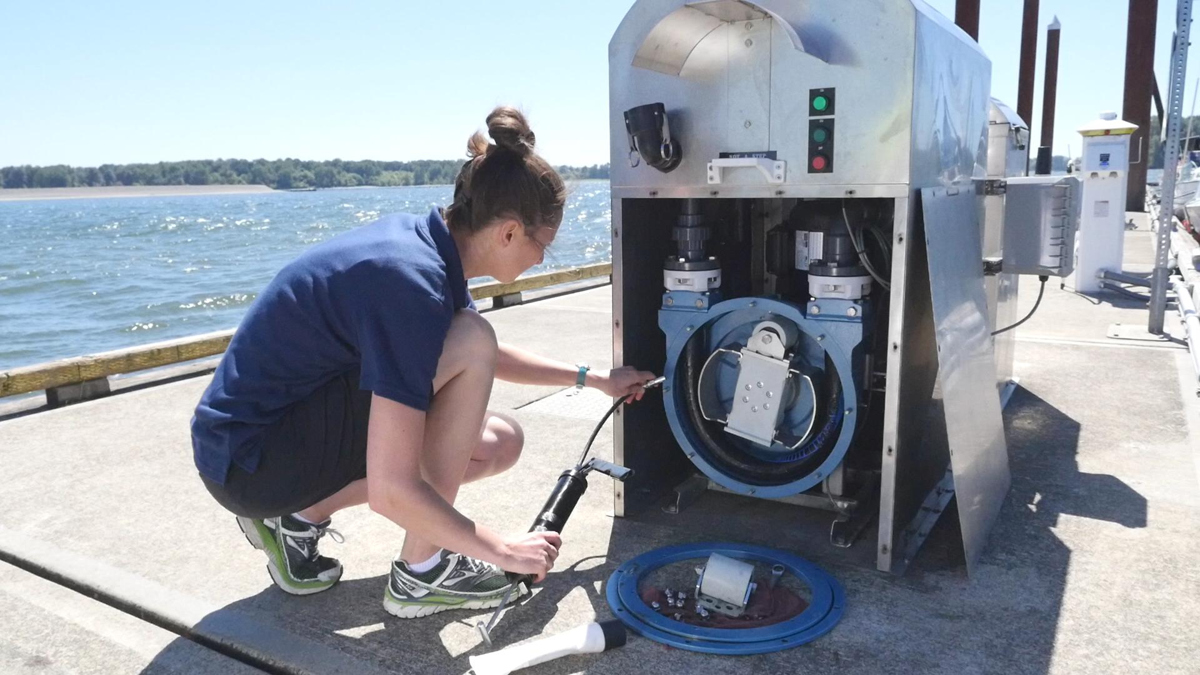 Oregon Sea Grant Produces Pumpout Training Video
Published on December 1, 2017
Properly functioning pumpouts and dump stations are essential to keeping waterways clean and safe. To assist marina operators in maintaining their pumps, Oregon Sea Grant and the Oregon State Marine Board teamed up to create two training videos.
"The idea for the videos came about after hearing from boaters that they encountered some pumpouts that were out of order," said Jenny East, boating outreach coordinator for Oregon Sea Grant and Oregon State University Extension. "Boaters were concerned if the pumps weren't working, how would they pumpout their boats."
In preparation for the video production, East traveled the state visiting 44 marinas and boating facilities. As she talked to owners and operators, she discovered they had a wealth of knowledge as they shared some of their challenges with maintaining the pumps.
"I appreciate all the knowledge they shared with me because they work with these things every day," East said.
Sign up for the Marina Dock Age newsletter.
Our newsletter delivers the latest news straight to your inbox including breaking news, our exclusive content covering the marina and boatyard industry, new products, and much more.
Maintaining the pumps was sometimes problematic because there wasn't a manual available to look at or because staffing changes over the years meant the facilities no longer had people with the skills to maintain the pumps.
"We noticed that many boating facility owners utilize seasonal staff to help with the maintenance of pumpouts, dump stations and floating restrooms. In addition, over the years there appeared to be changes in the type of skills maintenance staff possessed," said Janine Belleque, boating facilities manager for the Oregon State Marine Board. "We wanted a resource to help boating facility owners train staff to maintain pumpouts, dump stations and floating restrooms but also empower them to problem solve some of the most common issues."
In addition to talking to marina operators, East said they consulted with pump manufacturers to get basic maintenance and troubleshooting tips. They also got input from the Oregon State Marine Board to ensure they met the requirements for the facilities that received public funding to install the pumps.
After gathering all the information, East said they created a story board, wrote scripts, worked with a local marina as a filming location, and a member of the Sea Grant extension staff was the videographer. "It was definitely a team effort with a lot of collaboration," she said.
How-to Videos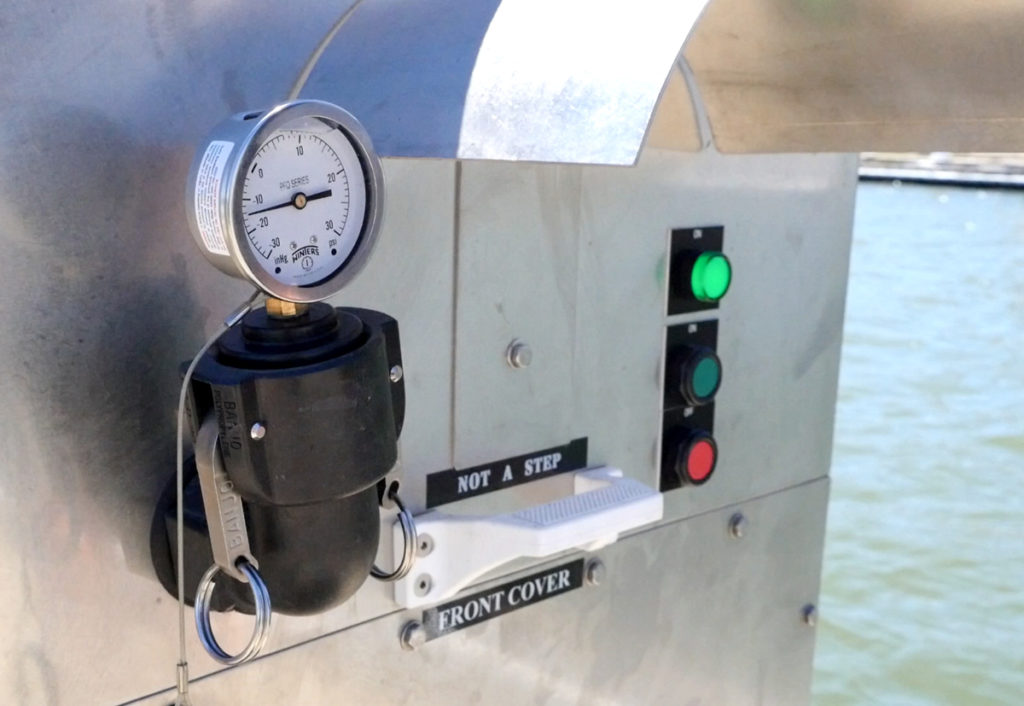 Clogs are among the most common problems with the pumpouts, but the video also discusses other issues that might arise, such as holes in hoses, cracked seals, or electrical and plumbing malfunctions that may require repairs by licensed professionals. The videos also outline regular maintenance routines and steps for winterizing. "We want to encourage them (marina staff) to check on the pumps and to be looking for things. It is helpful for them to know what to look for."
The video on pumpout maintenance is a little more than 12-and-a-half minutes long, and the dump station maintenance video is 5-and-a-half minutes. Each video is divided into segments on specific maintenance points.
"We wanted to keep them short. We know marina staffs are busy and have a lot to do," East said.
The "How to Maintain a Dump Station for Portable Toilets" video includes two chapters:
Chapter 1: An introduction to the features of a dump station that is connected to a pumpout station
Chapter 2: Weekly maintenance tasks, troubleshooting advice if the basin won't drain, and winterization tasks
The "How to Maintain a Pumpout Station" video is divided into the following chapters:
Chapter 1: An introduction to the features of a peristaltic pumpout station
Chapter 2: Weekly maintenance tasks
Chapter 3: Quarterly maintenance tasks
Chapter 4: Annual maintenance tasks
Chapter 5: Winterizing a station
Chapter 6: Troubleshooting common issues
East said they chose to focus on peristaltic pumps in the video because that is the type of pump primarily used across the state. The Oregon State Marine Board requires monitoring systems on the pumps to capture the date and time of the pumpout, the number of gallons collected, and the length of time it took to complete the pumpout. The State Marine Board must submit the number of gallons of sewage collected as part of the performance measures reported to the Department of Administrative Services and the Legislative Fiscal Office. "In addition, this data provides useful information about how and when boaters use pumpout stations, which can help boating facility owners operate and manage the equipment," Belleque said. On average, 750,000 gallons of waste are collected annually from pumpouts, dump stations and floating restrooms throughout Oregon.
The Clean Vessel Act provides funding for facilities to install pumpouts, dump stations or floating restrooms. Belleque said private marinas are eligible to apply if the equipment is open and accessible to the boating public. The Oregon State Marine Board can provide the required non-federal match through the State Boating Grant funds.
There are 51 pumpouts installed throughout the state, with most of those operated by city, county, port, park districts, state or federal agencies. Fourteen privately-owned marinas operate pumpouts and/or dump stations. East said the majority of the facilities that participate in the grant program do not charge to use the facilities. A limited number of facilities in remote locations on the river charge a small fee for dump station use. The majority of the pumpouts and dump stations are installed on fuel docks or short-term tie-up docks.
East said having the pumpouts on the fuel docks makes it convenient for boaters to pumpout their boats while fueling up. "We try to place them in places that make it as easy as possible for boaters to pump out," she said.
The training videos for marina staff are posted in Oregon Sea Grant's video library on YouTube. East said she has been visiting marinas across the state to let them know the videos are available. They have also distributed the information through the Oregon State Marine Board, the Clean Marina program, and the States Organization for Boating Access conference.
Agencies in Indiana and California have contacted East about linking to the videos, so they are available for marina maintenance staffs there. "That the videos can help marinas nationwide is great," she said.
Following the success of the pumpout training videos, Oregon Sea Grant and Oregon State Marine Board are considering working together again to produce a video on maintaining the floating restrooms located on the state's waterways.
Clean Boaters
Oregon Sea Grant uses several different methods to educate boaters on what options they have for pumping out their boats or emptying porta-potties. "Boaters are so motivated to keep waste out of the water, and I am so thankful for that," East said.
There are 80 locations in the state where boaters can find floating restrooms, pumpout their holding tanks or flush away the contents of their portable toilets. East said sometimes the waste disposal stations might not be in direct sight when people launch their boats, so her office helps marinas obtain signs that direct boaters to the pumpout/dump station locations. The Oregon Sea Grant YouTube library includes two videos to help boaters learn where and how to dispose of their waste: "Where to empty onboard portable toilets in Oregon" and "Where to empty onboard holding tanks in Oregon."
East said they also distribute cards that list each sewage disposal location and the phone number to call if it's not working. "People really appreciate having that card to keep on their boat," she said.
An interactive map on the BoatOregon.com website shows boaters the locations of fuel docks, boat launch ramps and waste disposal stations. East said California has a mobile app people can download that includes a listing of the pumpout stations. She hopes to collaborate with them to create something similar for Oregon.
"We want to make the information available in all the different avenues people use – paper, online, apps on their phones," East said.